The Importance of Slowing Down to Support Digestion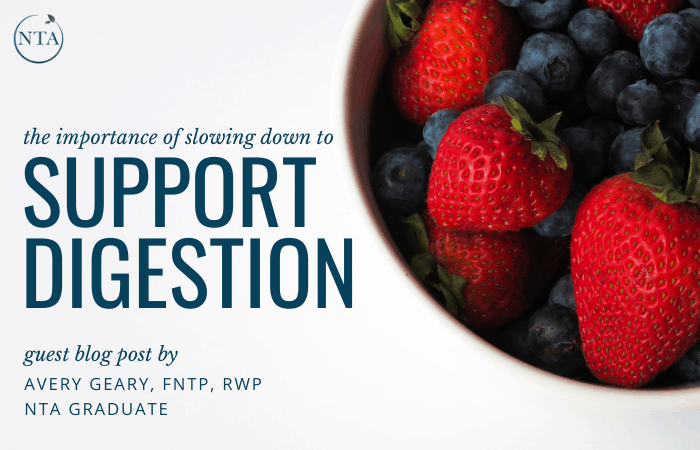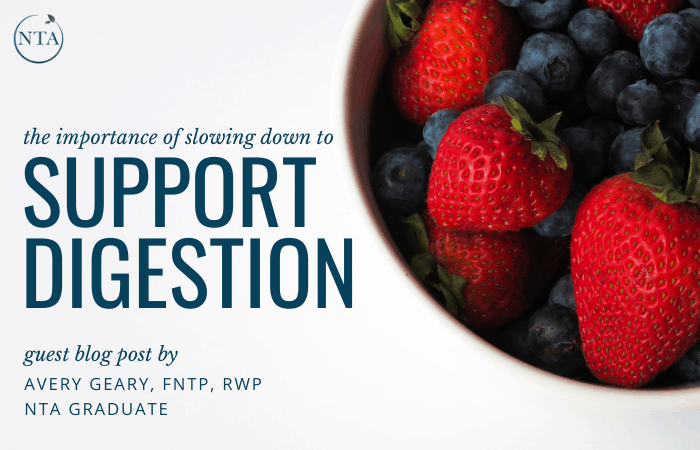 Today, people often are grabbing food on-the-go and eating as quickly as possible. It is normal to stand up when eating versus sitting down. You may think you're being efficient by choosing to stand and eat or taking ten minutes to have lunch, but it's actually the opposite. This puts your body in "flight or fight" mode (the sympathetic state). This state is not optimal for digestion because your body needs to be relaxed and calm to properly digest food.  
However, with a few simple adjustments, you can slow down and support your body's ability to digest food well. 
Why is digestion important?
Digestion is the body's way of breaking down, utilizing and absorbing nutrients from food (1). The digestive system is a north to south process, beginning in the brain and continuing through the large intestines. For the digestive system to work optimally, all of the organs associated need to be functioning properly. 
Every cell that makes up every organ depends on proper digestion to provide nutrients to your body to support its function (1). If you aren't ready and prepared to digest, you won't digest your food properly. The good news is there are ways to slow down to help support digestion. By following these tips to slow down, you can ensure you are ready to properly digest the food you are eating.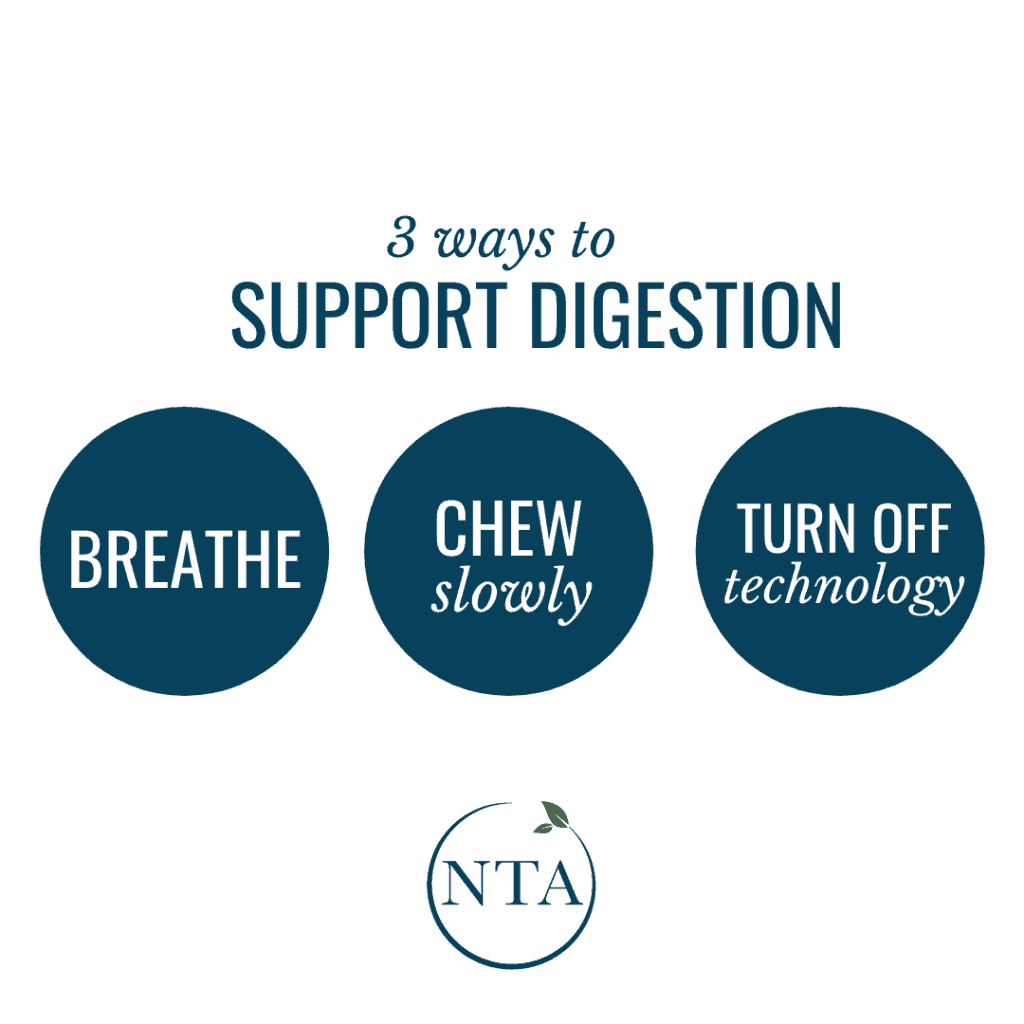 Breathe.
Being in a relaxed state upon eating is one of the best ways to support digestion. Taking three slow deep breaths before eating can support your body's ability to digest food properly. This allows your body to relax and engage the parasympathetic nervous system, the "rest and digest" state. This state is necessary to help you digest food properly and increase digestive motility (1,2). 
Chew Slowly.
Chewing your food slowly is crucially important for the process of digestion. Chewing food at least 20-30 times before swallowing allows you to thoroughly breakdown the food you are eating, making it easier to digest. Ineffectively chewing or not chewing long enough allows large particles of food to enter the stomach and colon, which can lead to unwanted digestive discomfort (1). Chewing your food well allows you to support easier digestion, leading to less digestive issues such as gas and bloating. 
Turn Off Technology.
Technology can be distracting when eating, taking your focus away from your meal and chewing well. Setting down your phone and turning off the television minimizes these distractions. By creating a distraction-free environment, your brain can effectively activate salivary glands to produce saliva, which begins the digestive process in your mouth (1). 
Through understanding ways to support digestion and the importance of slowing down, you can get the most out of what you eat. Your digestive system will thank you. 
---
This article was written by

NTA

 graduate,


Avery Geary

, FNTP, RWP.
Avery is a certified Functional Nutritional Therapy Practitioner and Restorative Wellness Practitioner working in Sacramento, California. She received her Masters in Nutrition for Wellness from Bastyr University. After experiencing how whole food nutrition has a healing effect on the body, she has committed herself to helping women achieve similar revelations of their own. She helps women balance their hormones and heal their gut through whole-food nutrition, and utilizes lab testing to understand the deeper root causes of her clients' symptoms to truly heal.
You can find Heather through her website, www.averygearywellness.com, Instagram, Facebook, and Pinterest.
---
The views and opinions expressed in this post are those of the author and do not necessarily reflect the views and opinions of the NTA. They are intended for general information purposes, and are not to be considered a substitute for medical advice, diagnosis, or treatment. Want your recipe or article to be featured on our blog? Email our team Marketing@nutritionaltherapy.com with your full name, article, a short bio in third person, and a headshot. We may feature you in an upcoming blog post.
Resources:
Nutritional Therapy (2019). 

NTP

 Module 4: Digestion and Elimination. Nutritional Therapy Association. pg. 1-31.

Frøkjaer

, J B, et al. 

"

Modulation of Vagal Tone Enhances Gastroduodenal Motility and Reduces Somatic Pain Sensitivity."

Neurogastroenterology

 and 

Motility :

 the Official Journal of the European Gastrointestinal Motility Society, U.S. National Library of Medicine, Apr. 2016, www.ncbi.nlm.nih.gov/pubmed/26728182.

 

Join us for a Live Webinar with one of our Instructors and Admissions Advisors!
During this call, you'll explore and learn:
How to create a rewarding career in holistic nutrition that will give you the confidence and competence to replace your full-time income (whether you're new to nutrition or or using it to enhance your current services)
How our unmatched education and instructor support sets our NTP program apart from other nutrition programs​​​​​​​
How graduates are successfully using their education and the many career opportunities available to you
If the NTP program is the right fit for you and how to move forward in financing your education