Our Mission
The Nutritional Therapy Association is dedicated to: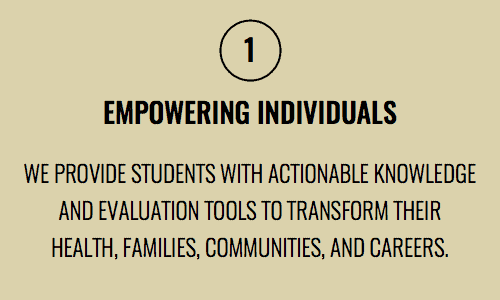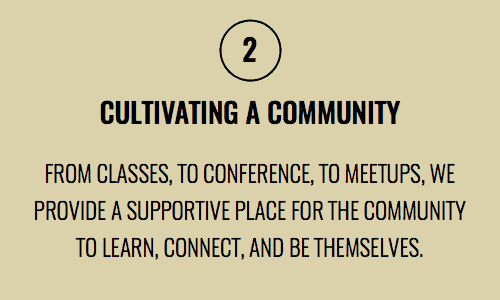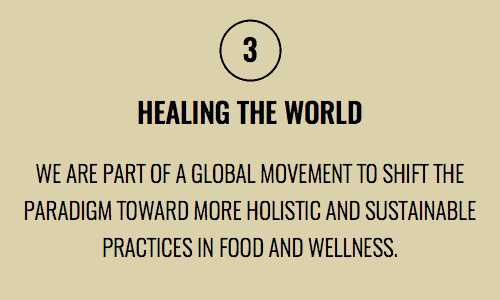 NTA Values
Whether in the office, classroom, or kitchen, the NTA team lives by the following core values:
EMBRACING BIOINDIVIDUALITY.
We each bring unique strengths to the table, and are encouraged to be our authentic selves and invest our best in all we do.
HAVING EACH OTHER'S BACKS.
We look out for each other, put the needs of the team before our own, and are always willing to ask for help when we need it.
PRACTICING THE PARADIGM.
We practice what we preach, honoring ancestral wisdom, focusing on The Foundations, and enjoying real food.
DOING GOOD IN THE WORLD.
We strive to make the world a better place through education, inspiration, and service.
LEARNING & IMPROVING EVERY DAY.
We are nerds and proud of it. We constantly seek to expand our knowledge and skills and share what we've learned with the team.
ENJOYING THE JOURNEY.
​We take our work seriously but make sure to have fun along the way, celebrate successes, and follow our bliss.
GIVING LOTS OF DAMNS.
​We care deeply about each other, our students, and our planet, and are motivated more by mission than money.
A Leader in the Change of the Nutritional Paradigm
The Nutritional Therapy Association (NTA) changes the paradigm of nutrition and healing by delivering an ancestral perspective with integrity. We go beyond food to include agricultural economic justice and environmental sustainability, championing sustainable local and organic food production, animal rights, and the environment. The NTA's passionate community has one dedicated focus: to redefine health by nourishing, educating, and connecting individuals and communities.
While every community has its beliefs around what they eat, none match the dedication, passion, and knowledge of the NTA's community. Our instructors, staff, students, and graduates are unified by their common purpose and strong desire to help others.
Our mission is driven by our passionate students and graduates who make up our ever-expanding community of engaged, lifelong learners. As a member of the NTA, you'll gain knowledge about how to take control of your health and the health of those around you as well as participate in our worldwide community of like-minded individuals.
History
The NTA was incorporated as a vocational nutrition school in 1997 by Gray and Joy Graham with the primary goal of training healthcare practitioners in the practice of Nutritional Therapy. Addressing nutrition from a holistic perspective and reconnecting people to healing foods and vibrant health, the NTA is founded on the beliefs and teachings of such nutritional pioneering greats as Weston A. Price and Dr. Francis M. Pottenger. Price and Pottenger are considered two of the greatest scientific minds ever to research nutrition, food supplies, and their effects on modern society.
In the early years, the NTA's instructor team taught nutritional seminars to thousands of medical practitioners throughout the United States and Europe. Students included medical doctors, chiropractors, acupuncturists, and naturopaths. Subsequently, Mr. Graham was encouraged to make this unique nutritional training available to a wider audience.
In 2001, in partnership with South Puget Sound Community College, the NTA introduced the Nutritional Therapist Training course and began training and certifying Nutritional Therapy Practitioners (NTPs).  
In 2012 the National Association of Nutritional Professionals (NANP) included the NTA's Nutritional Therapist Training Program in their Approved and Recommended Holistic Nutrition Education Programs. The NTA is also a Cornerstone Member of the American Nutrition Association.  
In 2013 the NTA expanded our offerings to include a fully online, instructor-led Nutritional Therapy Consultant (NTC) program.
In the fall of 2017, the NTA introduced an eight-week, online, Career Development course designed to give graduates and other wellness professionals the resources they need to launch successful careers working with clients, building thriving practices, and helping to heal the world.
In 2018, the NTA launched Foundational Wellness, our first fully online, self-paced course for individuals looking to improve their own health and the health of their families. This comprehensive, groundbreaking program teaches the essentials of holistic wellness with elements of nutrition, cooking, lifestyle, mindfulness, and more.  
The NTA is one of the strongest driving forces aiming to fundamentally alter humankind's healthcare. We have trained approximately 5,000 Nutritional Therapy Practitioners and Consultants worldwide. We have NTPs and NTCs in all 50 states, several Canadian provinces, as well as Australia, Asia, and Europe. NTPs and NTCs are now commonplace in holistic and allopathic medical practices and are sought after as practitioners, chefs, authors, and advisors.
Frequently Asked Questions
Take a closer look at the training programs offered by the Nutritional Therapy Association.
Career Opportunities
Join our fast-growing team!
Find a NTP or NTC Provider
Looking for a Practitioner or Consultant of your own? Search our provider listings to find a provider near you!