HPA Axis Dysfunction: Symptoms, Root Cause, and How to Support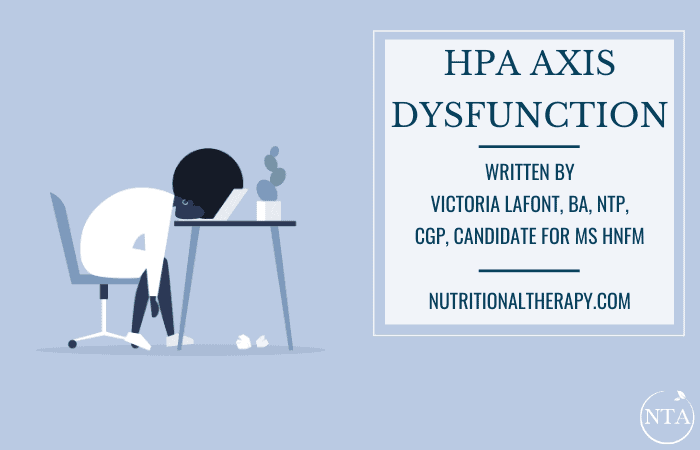 .The HPA axis or hypothalamus, pituitary, adrenal axis is probably a phrase you've heard of, but what is the HPA axis?  And, how do we recognize and support HPA axis dysfunction? 
What is the HPA 
a
xis?
The HPA axis is a quick way of describing the incredible physiological communication and response that occurs between three organs, the hypothalamus, the pituitary gland, and the adrenal glands. They participate in both endocrine (think hormones) and neurological (think neurotransmitters) function. These organs obviously have a major influence on our experience in the world!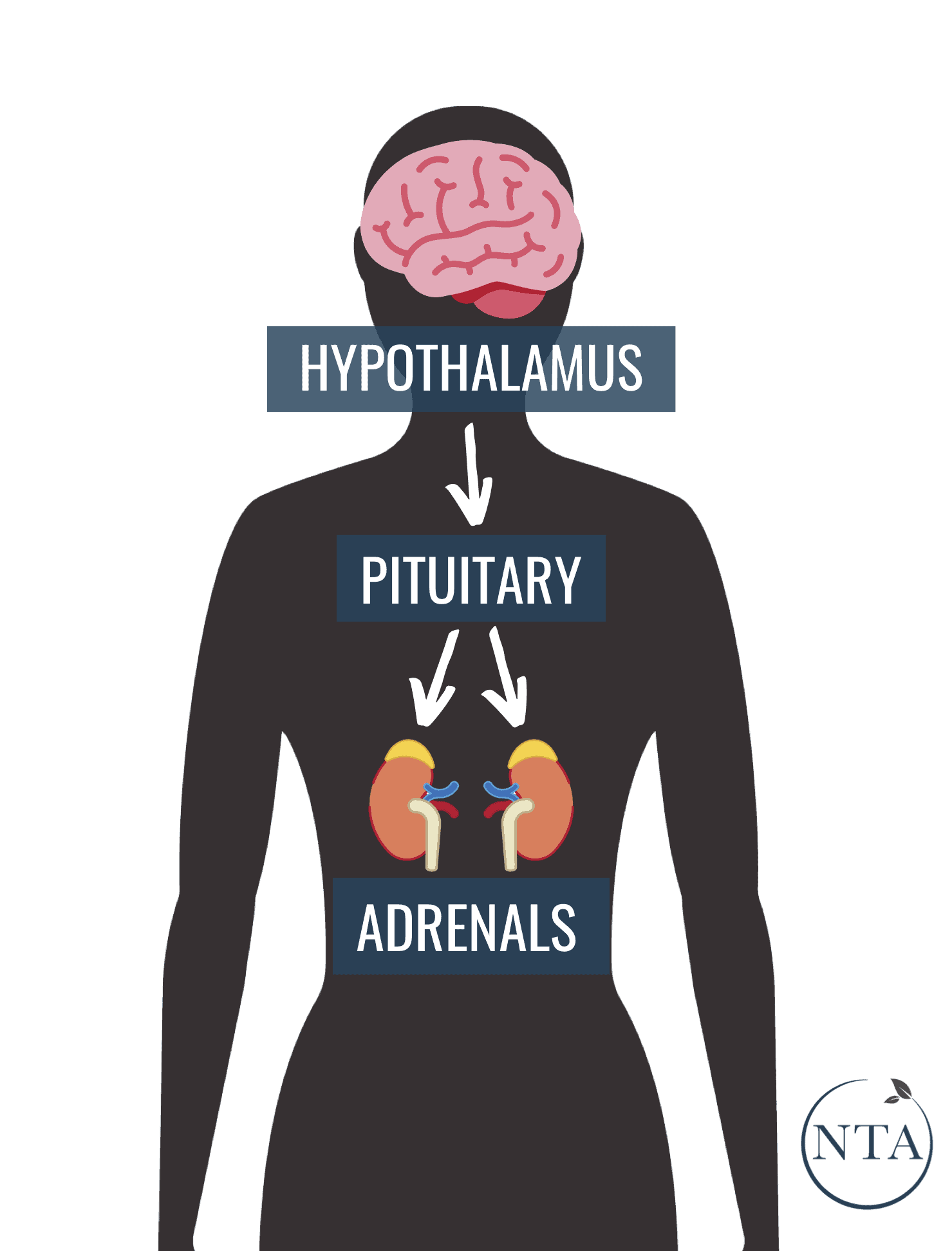 The hypothalamus and pituitary are the size of an almond and pea, respectively, and are located at the base of the brain.  Along with the adrenals, two walnut sized glands that sit atop the kidneys (ad = above, renal = kidney), the pituitary and hypothalamus are most known to help balance our responses to stress. These small but mighty glands also influence many other physiological functions that we don't usually associate with stress, such as:
 
Mineral balance

 

Blood pressure

 

Regulation of steroid (sex) hormones

 

Blood sugar balance

 

Tissue permeability

 

Appetite

 

Sleep

 

Memory

 

Cardiac function

 
(Gropper & Smith, 2013; Herman et al., 2016) 
P
ossible 
S
ymptoms of HPA Axis Dysfunction:
Exhaustion and fatigue

 

Difficulty falling asleep

 

Struggling upon waking up

 

Substance dependency (caffeine, alcohol, nicotine, etc.) 

Brain fog

 

Dizziness

 

Nausea

 

Low appetite

 

Low blood pressure

 

Increased sugar and/or salt cravings

 

Unexplained weight loss

 

Unexplained hair loss

 
With so many aspects of physiology related to this axis, how do we determine HPA dysfunction?  What causes miscommunication between these three glands, and how do we support re-balance? 
These are not easy questions!  Why? No two people will encounter the same stressors. No two people will exhibit the same symptoms of stress. So what do we do? 
What is the Cause and How do you Support the HPA Axis?
For the most accurate solution we have to turn to the NTA's major foundation of bio-individuality. This concept allows us to view each person as an individual, each with their own unique symptoms and means of support. Truly, any and every symptom can be traced to the body's inability to deal with stressors, and this 'overload' interrupts the endocrinological/neurological function via the HPA axis that allows us to maintain homeostasis, or physiological balance. 
These forms of stress can come from psychological and emotional sources, infection, lack of sleep, processed foods, over or under-eating, over or under-exercising, toxins, lack of sun and proper Vitamin D synthesis, GI distress…the list is endless. These are all 'stress!' And, they all have the potential to create HPA axis dysfunction. Even loneliness has been shown to create HPA axis dysfunction (Cacioppo, Cacioppo, Capitanio, & Cole, 2015). 
To appropriately support HPA dysfunction we must provide specific solutions that fit the individual's needs. What works for one person may not work for another, simply because of the wide possibilities of both stressors and responses. 
Read our blog on Effects of Stress on the Body to learn some great, broad spectrum solutions.  And, find an NTP (or sign up for our current classes!) to more deeply understand the NTA's bio-individual approach. 
Written by Victoria LaFont, BA, NTP, CGP, candidate for MS HNFM 
References 
Cacioppo, J. T., Cacioppo, S., Capitanio, J. P., & Cole, S. W. (2015). The neuroendocrinology of social isolation. Annual review of psychology, 66, 733–767. doi:10.1146/annurev-psych-010814-015240 
Gropper, S. S., & Smith, J.L. (2013). Advanced Nutrition and Human Metabolism. Belmont, CA: Wadsworth. 
Herman, J. P., McKlveen, J. M., Ghosal, S., Kopp, B., Wulsin, A., Makinson, R., … Myers, B. (2016). Regulation of the Hypothalamic-Pituitary-Adrenocortical Stress Response. Comprehensive Physiology, 6(2), 603–621. doi:10.1002/cphy.c150015  
Kresser Institute (2020). The HPA Axis Dysfunction Diet: How to Use Nutrition to Support a Balanced Stress Response

Join us for a Live Webinar with one of our Instructors and Admissions Advisors!
During this call, you'll explore and learn:
How to create a rewarding career in holistic nutrition that will give you the confidence and competence to replace your full-time income (whether you're new to nutrition or or using it to enhance your current services)
How our unmatched education and instructor support sets our NTP program apart from other nutrition programs​​​​​​​
How graduates are successfully using their education and the many career opportunities available to you
If the NTP program is the right fit for you and how to move forward in financing your education