Essential Minerals: Finding Balance with a Nutrient-Dense, Whole Foods Diet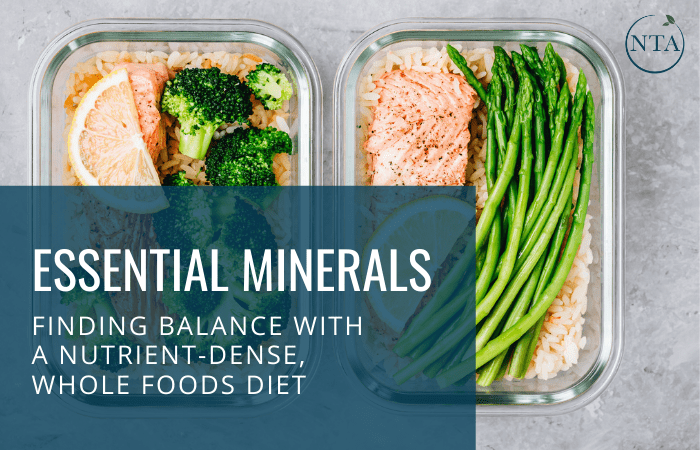 Minerals are an extremely important part of maintaining the health and physiology of our bodies.
But because humans don't make minerals on our own, we must be mindful about the foods we choose to eat to ensure we're getting all the nutrients we need.
Minerals play a key role in nerve conduction, muscle function, and tissue growth. So, what is the best way to make sure you're getting all the minerals you need in your diet? Let's take a deeper look!

There are two types of minerals that we need in our diets to ensure proper function and optimal health.
Macrominerals are needed in relatively large amounts in the body, and Microminerals are needed in trace amounts. Some minerals are synergists and work together to support the body and others are antagonists that work against other minerals. Both types of minerals are needed to create balance, kickstart important functions, and provide the nutrients that the body needs.
Examples of 

macrominerals:
 

Zinc – Important for 

i

mmune 

h

ealth

Iodine – Key in thyroid function, metabolism, and bone and brain development

Iron – Forms and oxygenates blood cells

Magnesium – Supports nerve and muscle function

Calcium – Important for structural and functional support in the body

 
Boron

Chromium 

Cobalt

Copper 

Germanium 

Iodine 

Lithium 

Manganese 

 




Molybdenum 

 




Rubidium 

Selenium 

Silicon 

Vanadium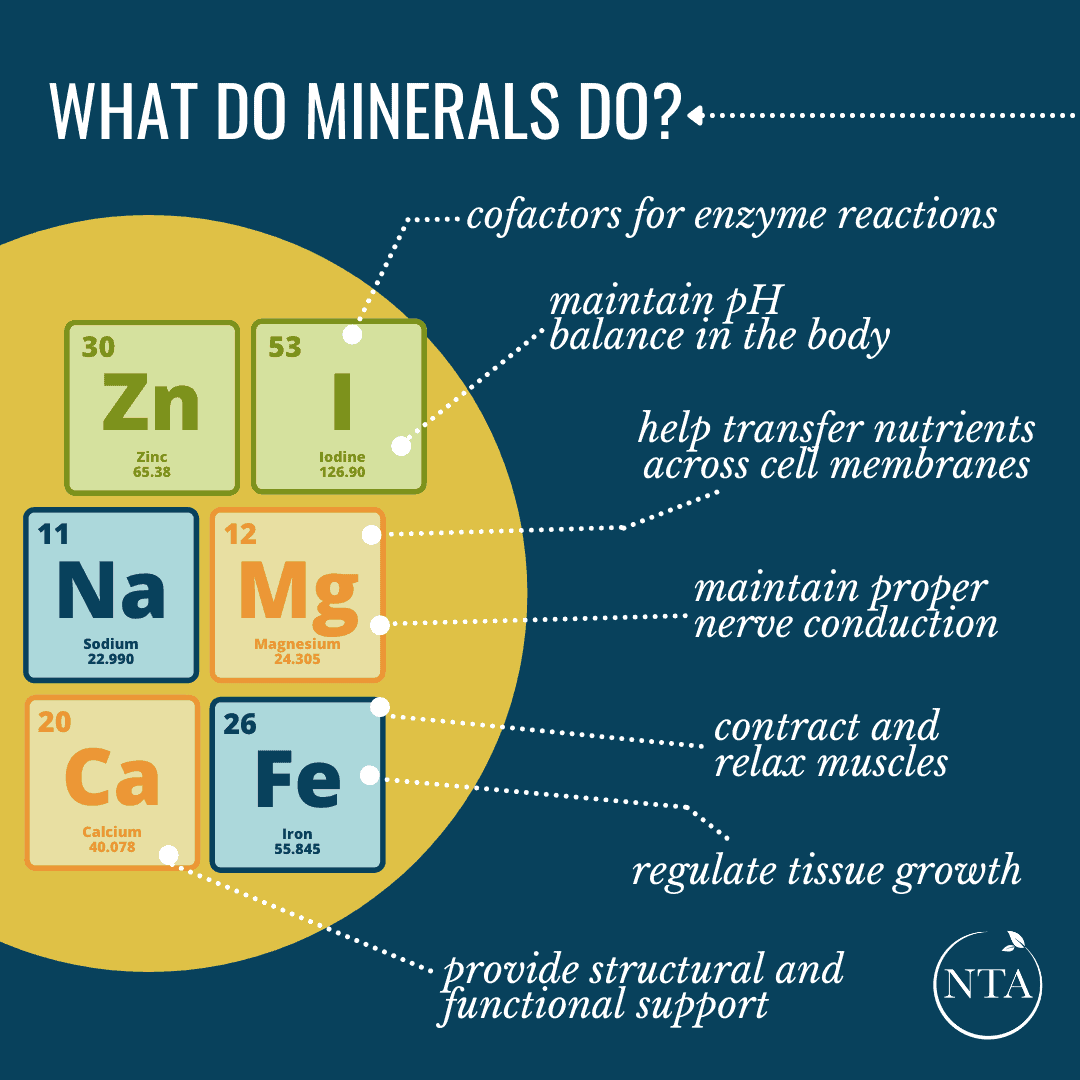 Due to each macromineral and micromineral having a specific function, we need a variety of minerals each day to create balance, support proper function, and keep our bodies strong and healthy.

But because the human body has no ability to synthesize minerals, we must obtain them from the food we eat.
The problem we run into is that unlike the diets of our ancestors, our food is deficient in many minerals.
There are three main reasons for this:
1. Industrial revolutions in farming and changes in landscapes have depleted our soil of minerals, which means there's less minerals in the food we grow.
2. Packaged food is more prevalent and convenient, but it is less nutritious and void of important minerals due to processing.
3. Finally, the absorption of minerals is dependent on other functions of our body (hydration, blood sugar regulation, digestion, etc.) working properly. Even if we are consuming minerals in the food we eat, they don't always make it into our blood, tissues, and bones.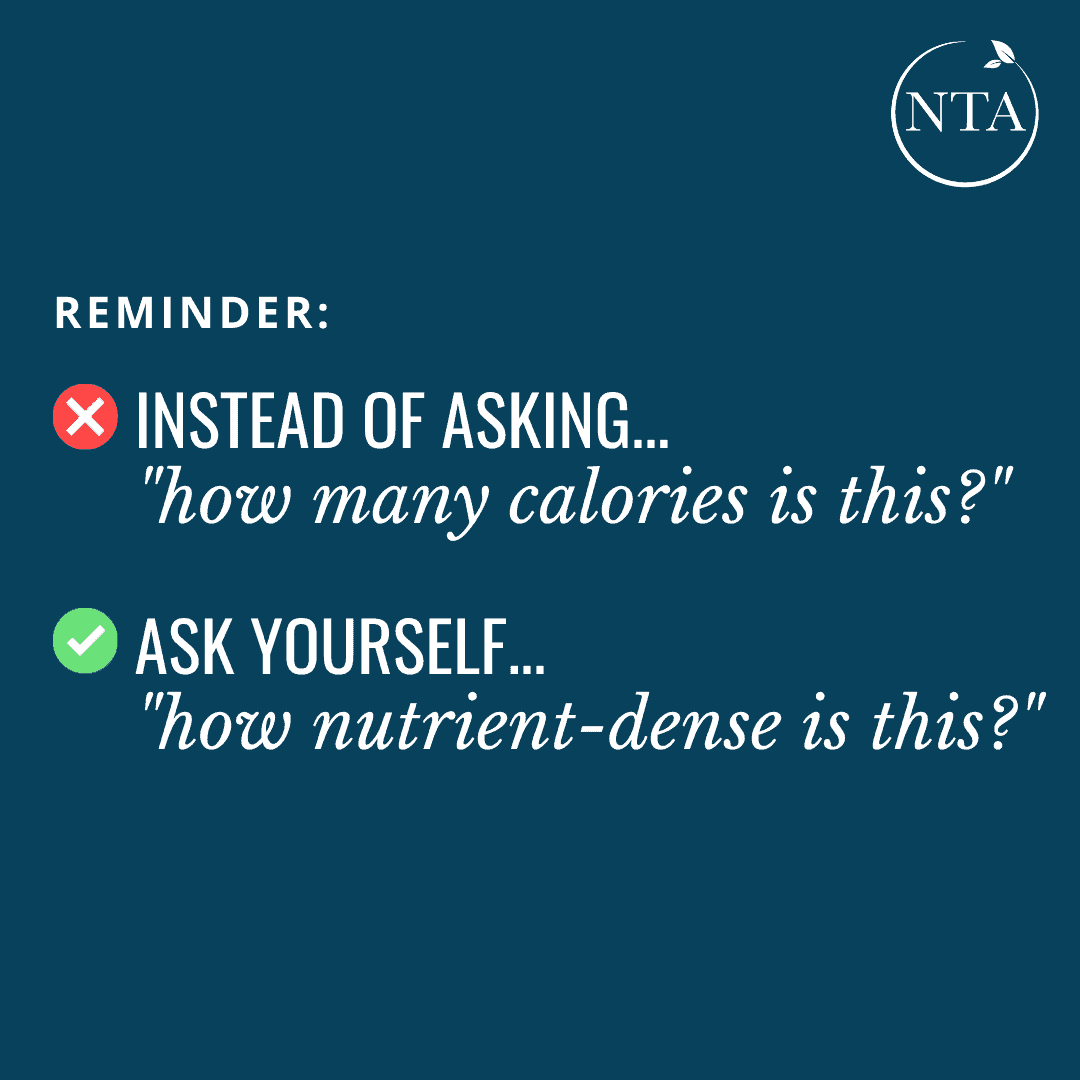 Factors like stress, diet, and toxins in the environment can all play a role in mineral dysfunction, but there are easy ways we can support our bodies and give them the minerals they need to thrive.
Eat leafy green vegetables and cook them in high quality fats for added nutrients (and flavor).

Add a pinch of sea salt to water.

The benefits are two-fold: it helps keep us hydrated and provides the key minerals found in sea salt.

Eat

properly

–

sourced

 seafood or seaweed 

– both are great sources of minerals!

Focus on whole foods – fill your diet with a variety of nutrient

–

dense options.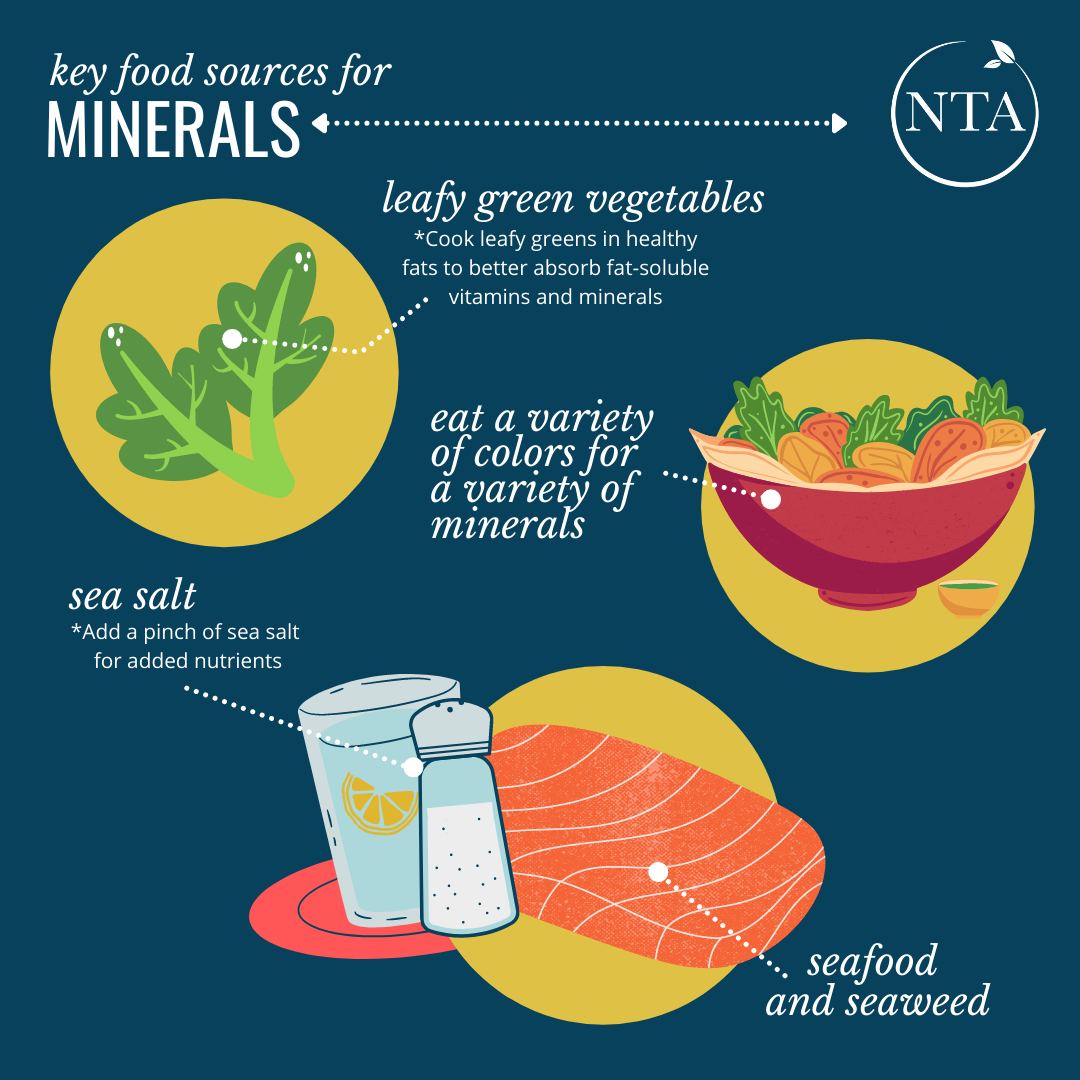 Thanks to overly-processed foods and the impact of industrialization on the nutritional integrity of our food, its all too easy to miss out on important nutrients that the body needs to function. But when we focus on a nutrient-dense, whole foods diet, we are able to turn the tables, provide our bodies with the minerals it needs, and ultimately, feel our best!
Learn more about mineral balance and easy ways to get more minerals into your diet by registering for our FREE 8-day Nutritional Therapy 101 course.
Want your recipe or article to be featured on our blog? Email our team Marketing@nutritionaltherapy.com with your full name, article, a short bio in third person, and a headshot. We may feature you in an upcoming blog post.

Join us for a Live Webinar with one of our Instructors and Admissions Advisors!
During this call, you'll explore and learn:
How to create a rewarding career in holistic nutrition that will give you the confidence and competence to replace your full-time income (whether you're new to nutrition or or using it to enhance your current services)
How our unmatched education and instructor support sets our NTP program apart from other nutrition programs​​​​​​​
How graduates are successfully using their education and the many career opportunities available to you
If the NTP program is the right fit for you and how to move forward in financing your education