Bacon Holy Guacamole Recipe by NTP student Kelsey Nichole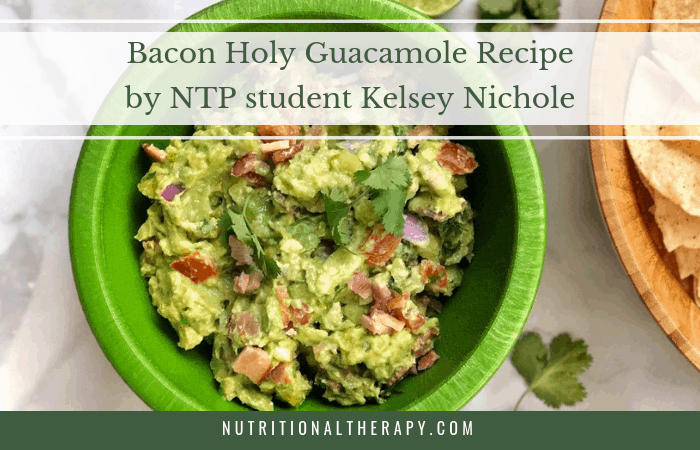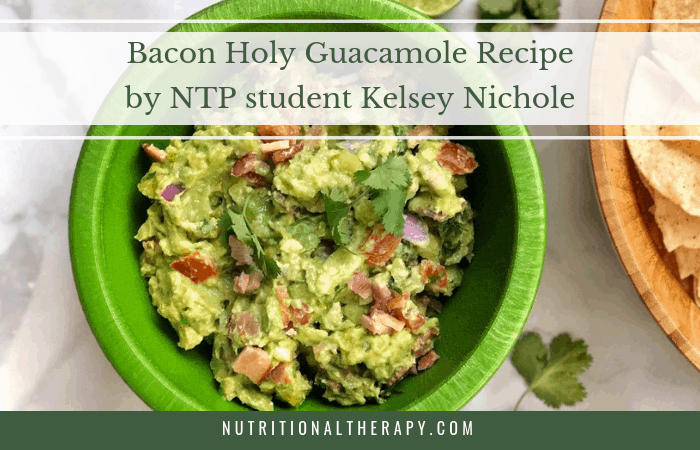 A guest blog post by Kelsey Nichole, NTP student and owner of Treasured Tablespoons.
A couple months ago, while my husband, Blake and I were out to dinner with some friends, we ordered guacamole and chips to munch on… because what is Mexican food without guacamole? Within a few minutes, a guacamole cart showed up to our table and freshly prepared guacamole was made in front of us. Not only was it entertaining and impressive, but so delicious! The guacamole was loaded with the yummiest of ingredients: 
Avocado
Bacon (um, yes please!)
Cojita cheese
Jalapeno
Tomato
Onion
Corn
Cilantro
Lime
Pineapple (yes!)
That night, I told Blake I was going to recreate the guacamole. I mean… bacon and pineapple?! Uh, yes please. So, Bacon Holy Guacamole was born. 
Of course, I created the Paleo version, meaning I omitted the cheese and corn. But with all the other flavorful ingredients, my re-creation was just as tasty. Salty, savory, and sweet. Yum! I'm willing to bet this recipe will make you say "holy guacamole!"
You can serve this Holy Bacon Guacamole as an appetizer with Siete Foods Chips, plantain chips, or veggies. It's also delicious served on top of chicken or salmon!
If you're ever in the Houston area, check out the O.G. guacamole at Ambriza Social Mexican Kitchen!
Bacon Holy Guacamole
This loaded guacamole is sweet, salty, and stuffed with bacon, garlic, tomatoes, pineapple, and more. It will make you say "holy guacamole!"
Ingredients
3-4

 

large

 

avocados

5

 

ounces

 

bacon

 

nitrate free

3/4

 

cup

 

pineapple

 

finely chopped

3

 

roma tomatoes

 

finely chopped

1/4 

cup

 

red onion

 

diced

2

 

garlic cloves

 

finely chopped

1

 

tbs

 

fresh jalapeño

 

finely chopped

2

 

tbs

 

fresh cilantro

 

chopped

juice from 1 lime

1/4 

tsp

 

sea salt
Instructions
1. Preheat oven to 400F and line a baking sheet with tinfoil. Place bacon on the baking sheet and bake for 15-20 minutes, flipping halfway through.

2. Meanwhile, mash all avocados in a large bowl. Set aside. Chop all remaining ingredients and add to a large bowl.

3. Once the bacon is done baking, let cool completely. Dice into small pieces and mix into guacamole. 

4. Serve with sweet potato chips, plantain chips, Siete Foods chips, or veggies. 
---
About Kelsey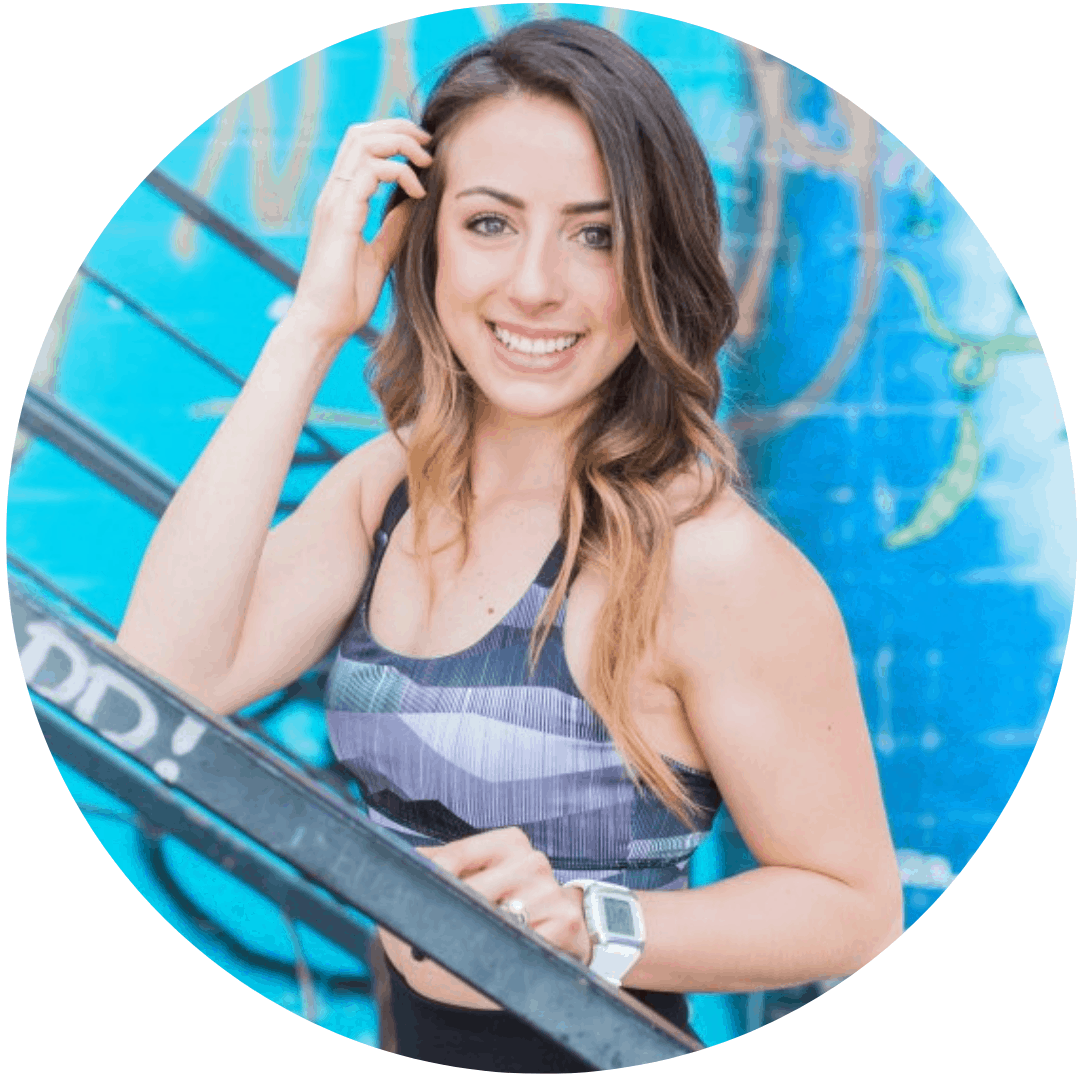 Kelsey is a certified personal trainer (ACE, NASM, FMS) & soon-to-be Nutritional Therapy Practitioner. She is a wife, self-proclaimed (healthy) foodie, and driven by her faith.  She enjoys consuming dark chocolate and red wine, kettlebell workouts, and over-sized coffee mugs. 
Her journey struggling with a variety of health issues, most likely due to overactivity, low body fat percentage, and stress, is what led her to become her own health advocate. She experienced symptoms like acne, bloating/IBS, fatigue, and frequent infections. Her health and fitness journey has developed, grown, and matured. Her goal has transformed from simply looking good to fully feeling her best, physically and mentally. She learned that tracking the food you eat isn't always necessary (especially long term), health and fitness look different for everyone, and rest is an essential part of any health goal. She is currently a certified personal trainer and truly enjoys walking with her clients through their personal journeys. Although physical fitness is a strong passion of hers, and probably always will be, she has always had interest in nutrition, which is why she is pursuing a certification in Nutritional Therapy and will graduate as an NTP in November of 2019.
You can follow along with Kelsey's journey on her website: www.treasuredtablespoons.com and on Instagram. 

Join us for a Live Webinar with one of our Instructors and Admissions Advisors!
During this call, you'll explore and learn:
How to create a rewarding career in holistic nutrition that will give you the confidence and competence to replace your full-time income (whether you're new to nutrition or or using it to enhance your current services)
How our unmatched education and instructor support sets our NTP program apart from other nutrition programs​​​​​​​
How graduates are successfully using their education and the many career opportunities available to you
If the NTP program is the right fit for you and how to move forward in financing your education