Watch: Why We Need to Defend Good Meat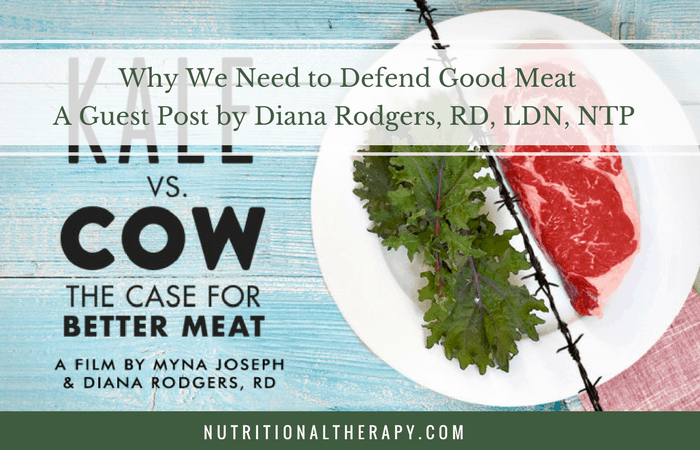 WATCH DIANA RODGERS, RD, LDN, NTP DISCUSS HER UPCOMING DOCUMENTARY, KALE VS. COW: THE CASE FOR BETTER MEAT
Diana's Documentary Kale vs. Cow: The Case for Better Meat is now in production! 
Stay up to date on the progress
.
IN THIS INTERVIEW WITH DIANA RODGERS, WE DISCUSS:
-The ideal way to buy meat is straight from the farmer. If you're unable to access a local farmer, the next best option is to order from companies like ButcherBox, Thrive Market, US Wellness Meats or other companies who sell ethically raised animal meats. -In the health industry, there is an argument that chicken is healthier than beef or red meat, which is incorrect. Not only are cows more sustainable than chicken (1 steer=500 lb of meat and raised off of grass and some grain vs 1 chicken= less meat, worse living conditions and fed 100% grain), beef is also more nutrient-dense. Beef contains iron and B12 which are two of the world's highest nutrient deficiencies and contains higher ratios of Omega 3's. -Living off vegetables only is not as sustainable as eating animal meats. Most of America is croppable, but that is not true for around the world. The best scenario is to crop where it is available and raise pastured animals (that consume grass) on the rest of the land.