Stuffed and Baked Sweet Potato Recipe: Paleo, Gluten-Free, Dairy-Free, and Delicious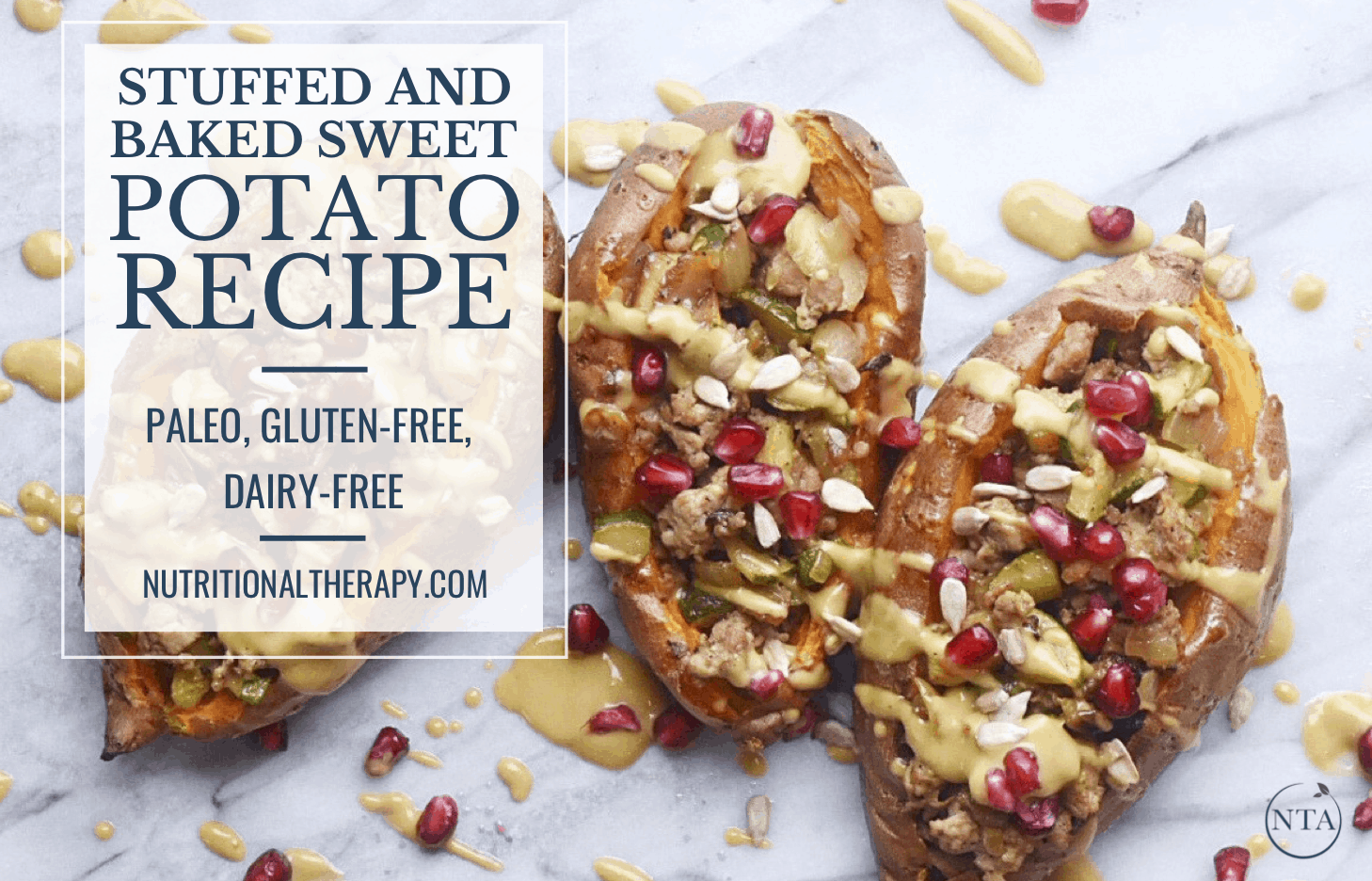 This Stuffed and Baked Sweet Potato Recipe will have your tastebuds swimming in bliss. Brooke Libby, NTP took the combination of sweet, tangy, and savory and turned it into a nutrient-dense masterpiece. This dish encompasses a rainbow of phytonutrients. Plus, who doesn't love any opportunity to use Diane Sanfillipo's Balanced Bites Seasoning? Libby says on her website, that it takes about an hour start to finish, but the majority of that time is spent waiting for the potatoes to cook in the oven. The actual hands-on time is more like 15-20 minutes.
Stuffed and Baked Sweet Potato Recipe
by Brooke Libby
Serves 4 Sweet Potatoes
Ingredients:
+ 4 

sweet potatoes, on the larger side

+ 1 

pound

 

ground turkey

+ 1 

large onion,

 

diced

+1 large zucchini, diced
+1 tbsp Italian seasoning blend (I use Balanced Bites)
+ black pepper, granulated garlic and sea salt to taste (I use 1/2 tablespoon Balanced Bites Trifecta blend)
+ 1 

tbsp

 

coconut oil or ghee

+ 1 

tsp

 olive oil (Kasandrinos is a favorite in our home)
Lemon Tahini Drizzle:
+ 1/4 

cup

 

tahini

+ 1/4 

cup

 

olive oil

+ juice from 1/2 a lemon
+ 1 tablespoon apple cider vinegar
+ granulated garlic, black pepper and sea salt to taste (I use Balanced Bites Trifecta blend)
+ water to thin out consistency if needed
Toppings:
1/4 cup pomegranate seeds

1/4 cup sunflower seeds
Directions:
1. Preheat your oven to 400°F.
2. Using a fork, stab the sweet potatoes all around several times and lightly rub with olive oil. Roast them directly on the top oven rack for 50-60 minutes, until very tender. A fork should go through very easily with no resistance. (place some foil on the bottom oven rack to catch any drippings.)
3.While the potatoes are cooking, melt some coconut oil  or ghee in a large cast iron skillet. Add the onion and sauté them until they are mostly translucent.
4. Mix in the ground turkey, Italian seasoning, granulated garlic, salt, and pepper.
5. When the turkey is thoroughly cooked (no more pink), add in the zucchini and let cook for an additional 2-3 minutes.
6. While the turkey is cooking, put all of the ingredients for the Lemon Tahini Drizzle in the blender and mix completely. Add some warm water if necessary until a consistency that allows you to pour it out is reached.
7. Remove the potatoes from the oven, and carefully cut in half the long way. Leave the ends intact though. This creates a "potato boat" as Cal calls them in our house!
8. Gently push open the sides of the potato to make room for the stuffing. Be careful not to rip it open completely (not the end of the world if you do, it just wont look as pretty).
9. Place the turkey mixture inside the potato boat and top with a healthy amount of lemon tahini drizzle, pomegranate seeds and sunflower seeds.
Enjoy!
Want your recipe or article to be featured on our blog? Email our team Marketing@nutritionaltherapy.com with your full name, article, a short bio in third person, and a headshot. We may feature you in an upcoming blog post. 
---
About Brooke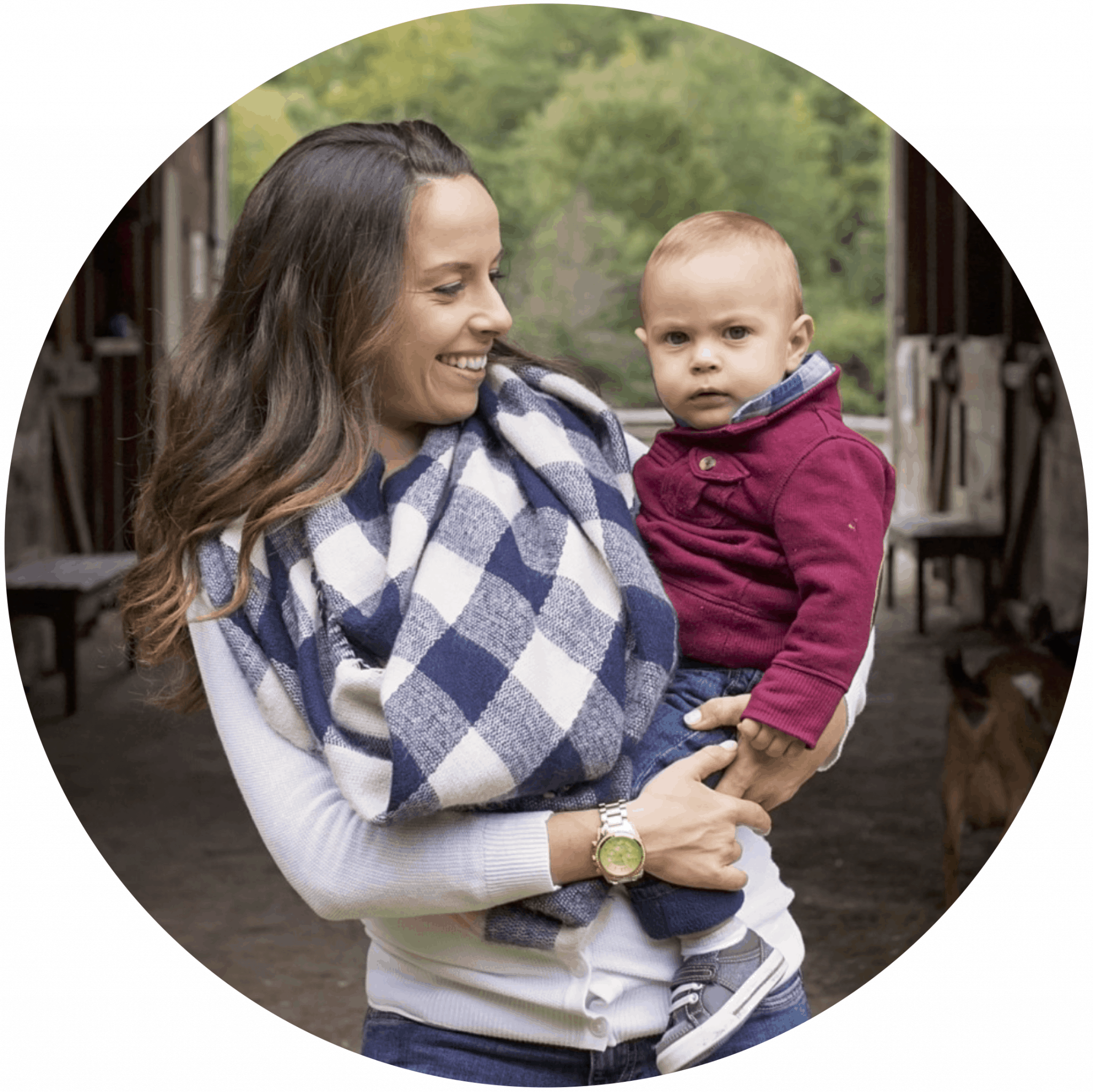 Brooke Libby is a CPA turned NTP. She is a blogger, recipe creator and real food enthusiast. She is a mama to two young children and lives with her Lobsterman husband just outside of Portland Maine. Brooke found her calling into the nutrition world while struggling through infertility and her autoimmune skin condition, psoriasis. She used real food to heal gut and put her disease into remission. She now uses what she learned through the NTA education to help others find optimal health through nutrition.
Want to speak with an instructor? 
Join us for a Live Info Session on June 26 at 5 PM PST. One of our Senior Lead Instructors will go in-depth, discussing the differences between our programs. This is a great opportunity for you to get your questions answered!