Your successful NTP career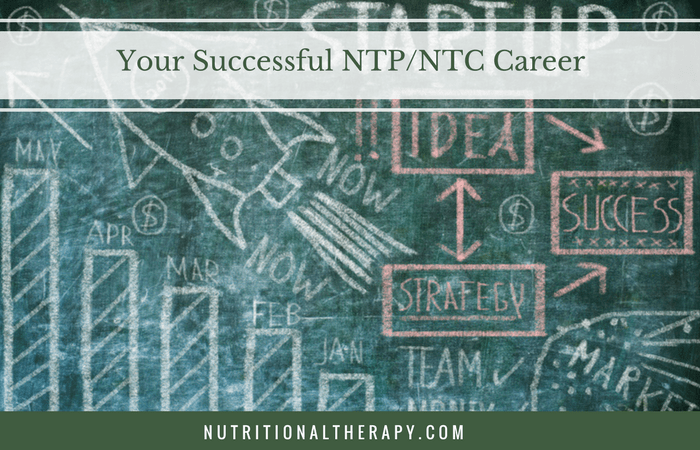 Some of you may be graduates who have hit the ground running with your business while others may be in the beginning stages of making their business dreams a reality. Regardless of where you're at in the process, your goals are probably very similar: help and heal people, successfully.
As you begin working with clients, crafting your vision or developing your business plan, you may be asking yourself, "how do I create a successful business?" You're not alone.  Building a business is challenging. As you navigate marketing methods, look for new clients, and figure out how to run a practice, it can be easy to feel overwhelmed. To help, we've compiled a list of frequently asked business and career questions along with additional resources to help you start off on a successful foot.
WHAT TYPES OF CAREER PATHS ARE AVAILABLE TO ME AS AN NTP?
There are many rewarding career paths available to NTPs. Depending on your goals, location and passion, the opportunities can range from national full-time positions to a valuable local resource to friends, family and your communities.
CAREER PATHS COULD INCLUDE:
Private practice
Integrative practice: working on a team of health care professionals
Corporate wellness coach
Nutrition and Health Blogger or Columnist
Community educator
Wellness podcast host
Nutritional coaching group leader
Community nutrition and wellness program leader
Wellness product/program creator
Local, quality sourcing organic foods representative
Lecturer or speaker
Published author
Retreat host
Writer or journalist
In-store nutritionist
Restaurant or personal chef
And many more!
Tip: Align your personality and passion with your potential career path. Do you like speaking in front of people? Reach out to your local natural foods store and host a workshop. Do you nerd-out over the science of nutrition? A career in policy change or research could be a great option for you!
WHAT SHOULD I EXPECT TO MAKE AS AN NTP?
Your income as an NTP is heavily dependent on location, experience, and other certifications or licenses. The average income for NTPs can range anywhere from $50 to $200 per hour.
Tip: To gain more specific figures, reach out to a NTA graduate who's been working in your area. They'll be able to tell you how they set up payments and what they charge clients.  
IS THERE A BUSINESS CLASS I CAN TAKE?
Absolutely! You asked and we delivered. The NTA offers the Career Development Course.This course is based off of Miriam Zacharias's PEACE Process and is led by Jessica Pantermuehl, NTP and founder of the Holistic Entrepreneur Association. The Career Development Course is an 8-week online program designed to give you the resources you need to launch a successful career. During the program, you'll learn how to tell your story, set goals, increase productivity, differentiate yourself, get clients, grow your practice, and launch initiatives like digital marketing strategies, books, and your online business! In two short months, you'll be ready to launch a successful practice doing the work you love.
Tip: Watch the Career Development Intro video to see if this is the next best step for you: http://ntabusinesscourse.com.  
WHAT OTHER RESOURCES ARE AVAILABLE TO ME?
Join your local business or entrepreneurial society – this will provide invaluable networking and referral opportunities, not to mention great business tools and information!
Chat with a graduate – Our tribe is dedicated to empowering others and healing the world and that starts with you! Reach out to a graduate that inspires you, invite them to tea and talk business ideas! Hashing out these details with a like-minded friend is super beneficial in starting a successful business (especially with someone who's been in your shoes!)
Join us on FB Live – every other week we welcome a new guest onto the NTA's Facebook to host a Facebook Live. Tune in and learn about the awesome things our graduates and community members are doing and how they got started!
Gain more knowledge – seek out business or career courses to take. Although we recommended the NTA's Career Development Course because it's tailored to you (NTPs), there are tons of great online courses available to choose from.
The world needs your help. With the training you've received from the NTA, you have the tools to make an incredible difference in the lives of those you work with and to create a financially rewarding practice. If you have additional questions about the Career Development Course or general business questions, please contact us.