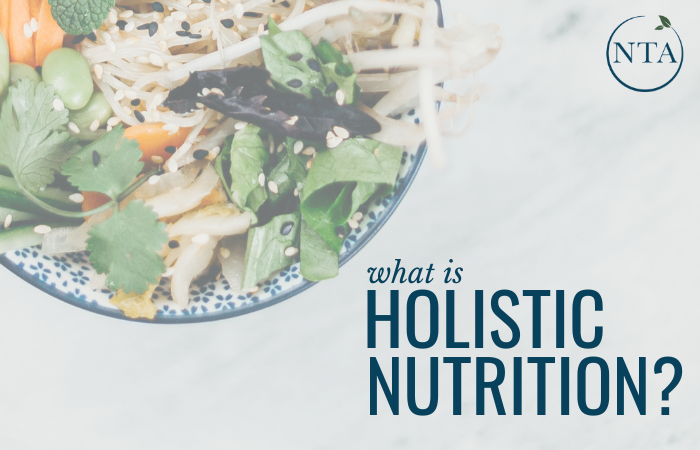 What is Holistic Nutrition?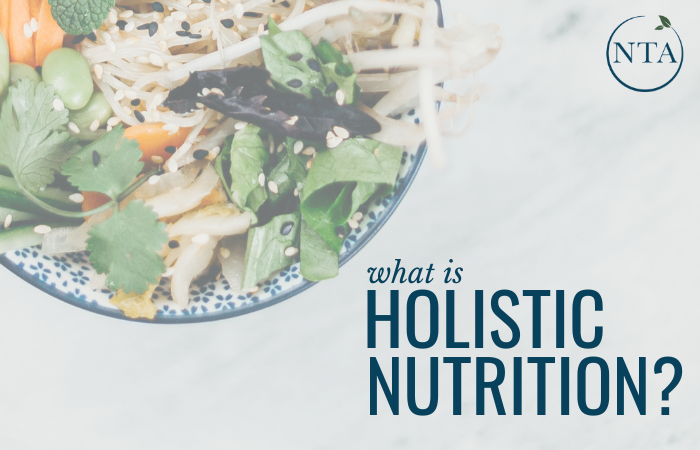 At the NTA, our philosophy centers around the idea that we can make the world a better, healthier place through a holistic and individualized approach to nutrition.
This idea is the driving force behind every aspect of our program. It's what brings our community together and inspires confident and competent Nutritional Therapy Practitioners to make a ripple effect in the world of nutrition. 
A holistic approach to nutrition honors the body's innate intelligence and its ability to restore, regenerate, and correct itself when supported through Nutritional Therapy and the Foundations:

Every aspect of our program is based on a nutrient-dense, properly prepared, whole foods diet. We firmly believe that "real food" has the power to make a positive impact on our life and health. Students who graduate from the Nutritional Therapy Practitioner program walk away understanding the nutrients that come from whole foods, and the roles they play in the physiology of our bodies. They know that real food doesn't have ingredients and that how you source food is just important as what you decide to eat. NTP's use all of this information to help clients make mindful decisions and lifestyle changes. They recognize that every person is unique in their dietary needs and preferences, and give clients the tools they need to choose better foods that will nourish their bodies.

Did you know digestion starts in the brain? When we start thinking about what we are going to eat for dinner, smell it cooking in the oven, and look at the finished product, digestion is already in play. Before we even take the first bite! Once we start eating, food makes its way down the gastrointestinal tract, breaking down into different nutrients as it goes along. When we fail to properly digest our food, our bodies are missing out on so many key nutrients necessary for energy production, growth, and overall health.

Water is the most important nutrient in the body. We need water to transport nutrients and waste, help maintain body temperature, help protect tissues, help cells build and communicate, and so much more.

Blood sugar regulation is one of the NTA's Foundations because it affects all aspects of human physiology:
Energy production and balance.
The tissue integrity of every organ and blood vessel.
Hormonal balance, including hormones needed for proper digestion, stress management, and sexual function.
Brain health, mood, memory, and cognitive function.
Ultimately, if blood sugar regulation is not working efficiently, overall health cannot be achieved.

Healthy fats like butter, ghee, animal fats, and olive oil are our friends! These foods support so many of our bodies systems and keep them running smoothly. From keeping our brains sharp to absorbing key nutrients in the digestive system, fat has many benefits. It's a delicious source of energy that keeps us full and moving during the day.

Minerals are an extremely important part of maintaining the health and physiology of our bodies. But because humans don't make minerals on our own, we have to be mindful about the foods we choose to eat to ensure we are getting all the nutrients we need. Minerals play a key role in nerve conduction, muscle function, and tissue growth. So what is the best way to make sure you are getting all of the minerals you need in your diet? Consume lots of mineral rich foods!
We believe that many of modern society's health problems result from weaknesses in the body's foundations.
Instead of viewing common issues like digestive disorders, blood sugar spikes, and problems sleeping as normal, Nutritional Therapy Practitioners are trained to approach symptoms holistically.
They support the entire body as a connected system using a nutrient-dense, whole foods diet that keeps the Foundations balanced.
What is a

Nutritional Therapy

 

Practitioner?

 




Careers 

in 

Holistic 

Nutrition
A Nutritional Therapy Practitioner helps their clients navigate all of the nutritional advice out there and learn how to better support their health through holistic nutrition and lifestyle changes.
Many NTPs open private practices (virtually or in person) and consult with clients individually. Others join teams with other holistic professionals and practitioners such as naturopaths, chiropractors, and functional medicine doctors. Some create products or services that help others take control of their own health and wellness.
The opportunities to educate, connect, and nourish are endless, and NTA students go on to do incredible things in the world of holistic nutrition. Some of these career paths include, but are not limited to:
Consulting with clients 1:1 or in groups – virtually or in-person 

Blogging or writing articles about health and wellness

Social media influencing

Hosting podcasts 

Hosting nutritional coaching groups 

Developing meal planning systems or businesses

Lecturing or speaking at events and conferences

Writing books 

Hosting retreats 

Creating online classes

And so much more…
Want to see an NTP in action?
Get an inside look at a day in the life of an Nutritional Therapy Practitioner by visiting our Instagram Highlights. See how NTA grads go on to create their dream careers, build successful businesses, and help others feel their best.
Want your recipe or article to be featured on our blog? Email our team Marketing@nutritionaltherapy.com with your full name, article, a short bio in third person, and a headshot. We may feature you in an upcoming blog post.

Join us for a Live Webinar with one of our Instructors and Admissions Advisors!
During this call, you'll explore and learn:
How to create a rewarding career in holistic nutrition that will give you the confidence and competence to replace your full-time income (whether you're new to nutrition or or using it to enhance your current services)
How our unmatched education and instructor support sets our NTP program apart from other nutrition programs​​​​​​​
How graduates are successfully using their education and the many career opportunities available to you
If the NTP program is the right fit for you and how to move forward in financing your education