Required Reading
READING & HOMEWORK LOAD
We require 15 books for our NTC & NTP Programs. Students are required to read the texts on the following pages to complete the NTP and NTC programs. Depending on the module and book in question, you will be tasked to read some books from beginning to end, while you will only need to read specific sections of others. You will then be asked to write a short book review or answer quiz questions related to the assigned passages.
We recommend that you budget 15-20 hours per week on average to complete the assigned reading, lectures, and homework. To give yourself a head start, we recommend that you begin the required reading as soon as possible (you do not need to wait until the course starts).
While the required reading is an important component of the program, please note that the video and audio lectures form the core of the NTA's curriculum. The written midterm and final examinations will only test you on the content included in the PowerPoint slides, not within the required texts.
PRICING
Standard list prices for the required texts are shown below for your reference ($560 total), but please note that actual prices are often much lower if you buy the books on Amazon ($375 without shipping at the time of writing). Many titles can also be found at your local library.
Note that all proceeds from Amazon affiliate links below go to a needs-based scholarship for future NTP and NTC students.
BOOK FORMATS
You may purchase whichever formats best suit your learning style and budget: eBook, paperback, hardcover, loose leaf, audiobook, etc.
SUBJECT TO CHANGE
The NTA's required and recommended reading lists are subject to change; check back to this page for the most current version of the list.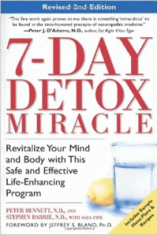 7-DAY DETOX MIRACLE
by Peter Bennett, ND & Stephen Barrie, ND
List Price: $18.99
Formats: Kindle, Paperback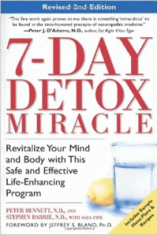 7-DAY DETOX MIRACLE
by Peter Bennett, ND & Stephen Barrie, ND
List Price: $18.99
Formats: Kindle, Paperback