Nutritional Therapy vs Health Coaching: Where to Start, What to Look For, and How to Practice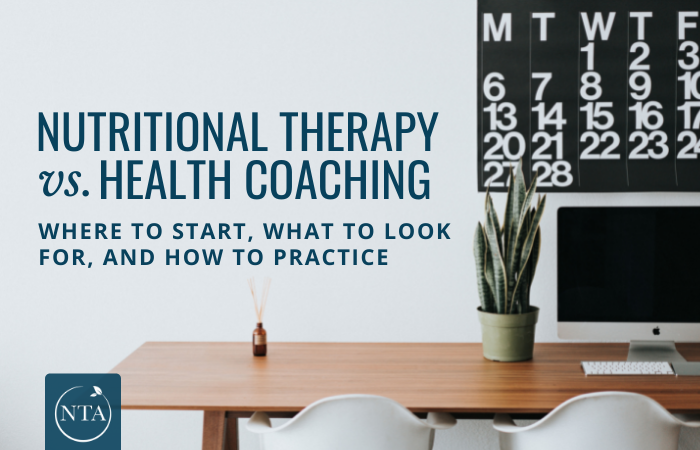 Healthcare costs are continually on the rise. Chronic disease has reached epidemic proportions; it's currently the leading cause of death and disability in the United States. Six out of ten adults have at least one chronic disease, many of which have contributing lifestyle and nutrition risk factors. Education about holistic nutrition and lifestyle factors is key to improving health and reversing the cycle of chronic disease. It's clear there's a need for health educators in our current healthcare climate, and with a projected employment growth of 8% through 2029 — much faster than average — the job outlook for health educators is positive. With this clear and growing need for educators to help influence and improve the health of humanity, there has never been a better time to become a Nutritional Therapy Practitioner.
Many educational institutions tout their health coaching certificate and nutrition training programs. With an overabundance of options, it leaves one wondering: What is the difference between nutritional therapy and health coaching? Which program is best? What does the certificate entail? Are there requirements to obtain a certificate? And what sort of health and wellness jobs are available? 
There are many routes one can take to become a health coach or nutrition coach. In this post, we will break down the complexities so that you can:
+ Understand the important role of nutritional therapy and health coaches in today's health environment
+ Take a critical look at the validity of each certifying body
+ Observe the career opportunities of a Nutritional Therapy Practitioner
+ Determine if a career in nutritional therapy is right for you
A Health Coach or Nutrition Coach is a professional who focuses on whole-body systems as individual factors that affect overall health. This includes, but is not limited to mind, body, and emotional factors. These are broad titles and can vary depending on certificate. Some examples are:
Nutrition and health coach certificate programs:
+ National Society of Health Coaches
+ ADAPT Health Coach Program
+ Primal Health Coach
+ Functional Diagnostic Nutrition
+ Kresser Institute
+ Nutrition Therapy Institute
+ Bauman College
+ Functional Nutrition Lab
Non-certified programs:
+ Beachbody Health Coach
+ Arbonne Health Coach
+ Self-proclaimed Health Coach
What Is a Nutritional Therapy Practitioner?
A Nutritional Therapy Practitioner (NTP) or Functional Nutritional Therapy Practitioner (FNTP) is a holistic nutrition professional trained and recognized by the Nutritional Therapy Association. The focus of an (F)NTP is to help support individuals' health and vitality through individualized holistic nutrition and lifestyle factors, as well as supporting nutritional and physiological deficiencies through the NTA's Foundations. (F)NTPs are trained to support optimal function of the body by assessing and addressing the health of the diet, digestive system, blood sugar regulation system, fatty acid status, mineral balance, and hydration levels. (F)NTPs also incorporate analysis of lifestyle habits including sleep, stress, movement, and environmental considerations to provide holistic recommendations that drive client success.  
With this framework and focus, an (F)NTP can support their client in achieving their health goals so they can live life to the fullest. Even the most complex systems and processes of the body are heavily influenced by the Foundations an (F)NTP is trained to support. Instead of chasing symptoms and trying the next trend, working with an (F)NTP can help determine what your unique body needs to thrive and cut through the noise of health claims in the industry.  
What makes the NTA Program Different?
NTPs use a foundational and bio-individual approach to functional, holistic nutrition to balance body chemistry and achieve optimal wellness. NTPs are equipped to support the body's innate ability to heal by addressing the importance of nutrient-dense food, anatomy and physiology, lifestyle choices, culinary wellness, client coaching, and how social and personal components influence health.   
Upon graduation, an NTP has received a minimum of 325 curricular hours across topics such as digestion, blood sugar regulation, anatomy and physiology, hydration, mineral balancing, and more. Here are just a few things that make the NTA unique and create a life-changing experience for students:
Instructor-led curriculum on a user-friendly, online learning platform
Unlike other schools, you'll be taught by REAL people. Our instructors are holistic nutrition experts who are leading the charge in shifting the paradigm of health. They bring real-life examples of client cases, modern research, authoring books, and so much more directly to you in the classroom. As a student, you'll have access to our online learning platform that will keep you and your studies organized. You'll have support you need to learn, be successful, and connect right at your fingertips.
Bio-individual perspective
We firmly believe there is no one-size-fits-all approach to nutrition, meaning, we believe we are unique individuals who have unique nutritional needs. You won't find single diet philosophies or diet trends within this curriculum. During the program, you'll learn how to honor each individual's unique needs as you work to help clients support their bodies, find balance, and restore function with nutritional therapy.
Curriculum rooted in science and history
When choosing a program, you should inspect the curriculum for proper sourcing and science-based information. For example, our academic and curriculum team incorporates three main principles into the Nutritional Therapy Practitioner Online program curriculum: evidence-based research, generational wisdom, and proven results in clinical practice. The foundations of our curriculum comes from a combination of the work of nutrition pioneers (like Weston A. Price and Dr. Francis M. Pottenger), medical research and articles, as well as the foundational, scientific principles of anatomy and physiology. You'll be taught by experts in the field who have vast experience and education in holistic nutrition, and you'll find credible citations throughout the entire program.
Mission Driven Community
We empower a passionate community of life-changing nutrition professionals to create a ripple effect that transforms lives and shifts the outlook of health to one of hope, today and for generations to come. The NTA community is dedicated, passionate, and knowledgeable. Our instructors, staff, students, and graduates all share a common purpose and desire to help others. Just take a look at our Instagram feed: there are so many graduates out there making a difference, helping other feel their best, and making their own unique impact on the world of holistic nutrition.
What Can I Do as a Nutritional Therapy Practitioner?
The focus of NTPs is to support an individual's health and wellness with a nutrient-dense, whole-food nutrition approach as well as lifestyle support while supporting nutritional and physiological deficiencies through the NTA's Foundations. NTPs are trained to help you find lasting health and wellness. NTPs are skilled and ready to begin practicing right away upon graduation. The wisdom you'll gain from our program, paired with the excitement and drive that result, will provide you the opportunity to shape your career the way that YOU want.
Here are a few ideas of what you can do as a graduate of the NTA:
+ Consult privately with clients
+ Join a wellness center and work on a team of health care professionals
+ Become a corporate wellness coach
+ Nutrition and Health Blogger or Columnist
+ Host of a wellness podcast
+ Create wellness products/programs
+ Develop a meal planning system for clients or organizations
+ Lecture or speak at events and conferences
+ Author books
+ Improve their overall health, and the health of their families, friends, and communities
+ And so much more!
Our graduates are out there doing this important work. And you can join them! The world needs more Nutritional Therapy Practitioners. The career opportunities are endless, and there are so many people out there who need to hear from YOU.
Here's why a few of our grads chose the NTP Program
Practicing as an NTP
The NTA is licensed as a private vocational school by the Washington State Workforce Board. We are also recognized by the National Association of Nutrition Professionals (NANP). Our graduates are qualified to sit for the board exam to be become Board Certified in Holistic Nutrition (R). The NANP ensures that the highest educational, professional and ethical standards are in place for those who belong to the association.
The state you live in will determine what you are able to call yourself and how you may practice. The Council of Holistic Health Educators is an advocacy organization that monitors nutrition laws in all 50 states and provides resources to support students of holistic nutrition schools and their professional members navigate the process of planning and setting up their business legally upon receiving their NTP certificate. Their legislative map links to each state's law governing holistic nutrition practices, and the restrictions and/or exemptions to the law. If you have specific questions about your state law, you can reach COHHE staff at via the web at www.HolisticCouncil.org/contact or via email at contact@holisticcouncil.org.
You can also reach out to NTP graduates who are practicing in your state who are listed on our Provider Search. Many of our graduates are able to provide firsthand experience in navigating the intersection of the NTP Scope of Practice and the holistic nutrition laws in your state.
Our NTP Scope of Practice and Code of Ethics explains what NTPs are trained to do. In some states, many of our graduates work under the supervision of a licensed practitioner or can practice as nutrition educators. NTPs with advanced professional licenses such as RDs, NDs, DCs, RNs, and others may have additional opportunities to incorporate holistic nutrition care under these credentials as well.
Summary
Nutritional Therapy Practitioners and health coaches play a critical role in supporting health and wellness. It's important to decide which characteristics you value most to determine which program is right for you and your career goals.
As an NTP student, you will be equipped to go out and make a serious impact. If you'd like to learn more and chat with our instructors and admissions team members, join us for our next webinar. 

Join us for a Live Webinar with one of our Instructors and Admissions Advisors!
During this call, you'll explore and learn:
How to create a

 

rewarding

 

career in holistic nutrition that will give you the

 

confidence

 

and

 

competence

 

to replace your full-time income (whether you're new to nutrition or or using it to enhance your current services)
How our

 

unmatched

 

education and instructor

 

support

 

sets our NTP program apart from other nutrition programs​​​​​​​
How graduates are

 

successfully

 

using their education and the

 

many career opportunities

 

available to you
If the NTP program is the

 

right fit

 

for you and how to move forward in financing your education