Nutritional Therapy vs Health Coaching: Where to Start, Average Salary, How Can You Practice?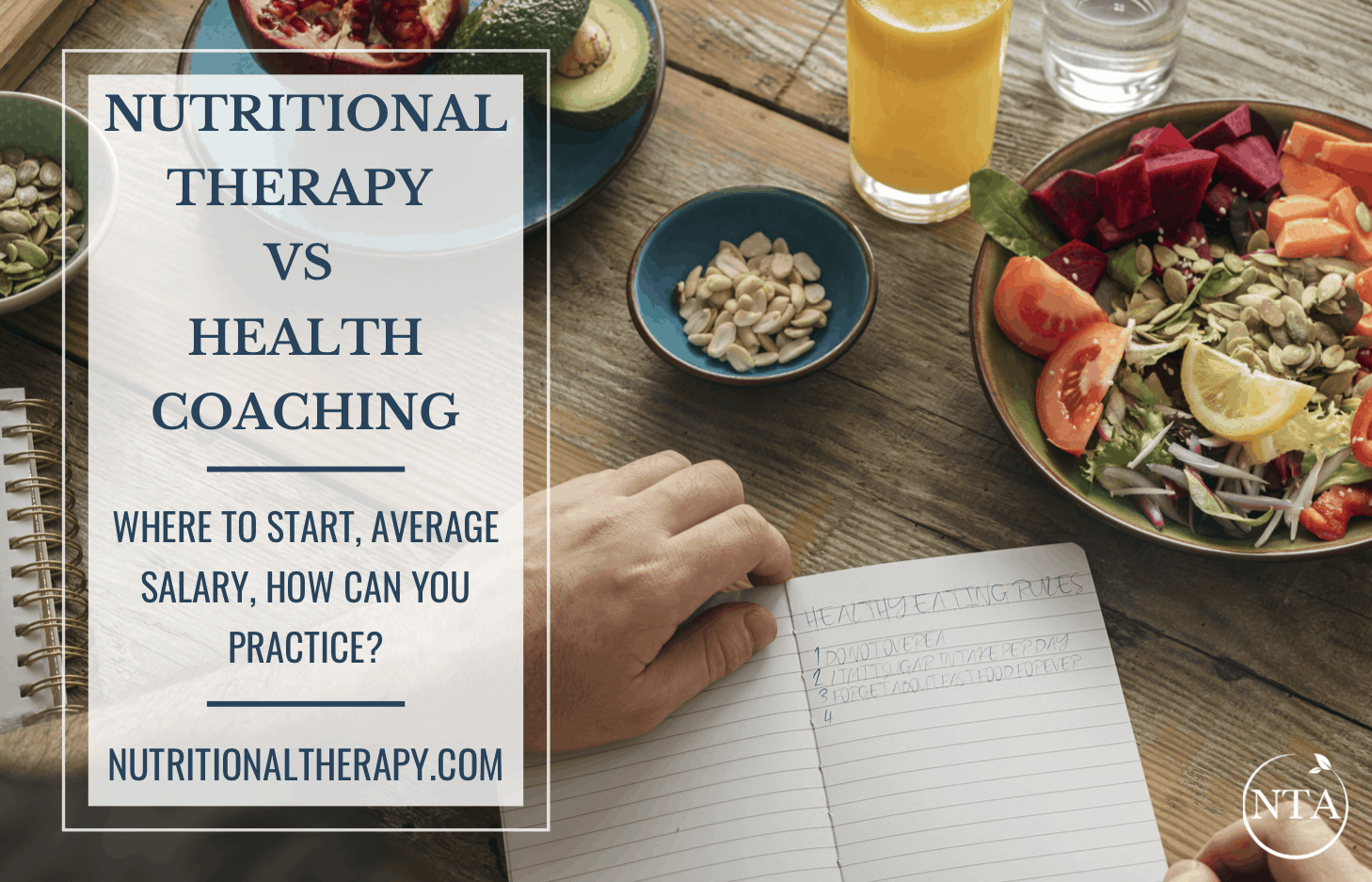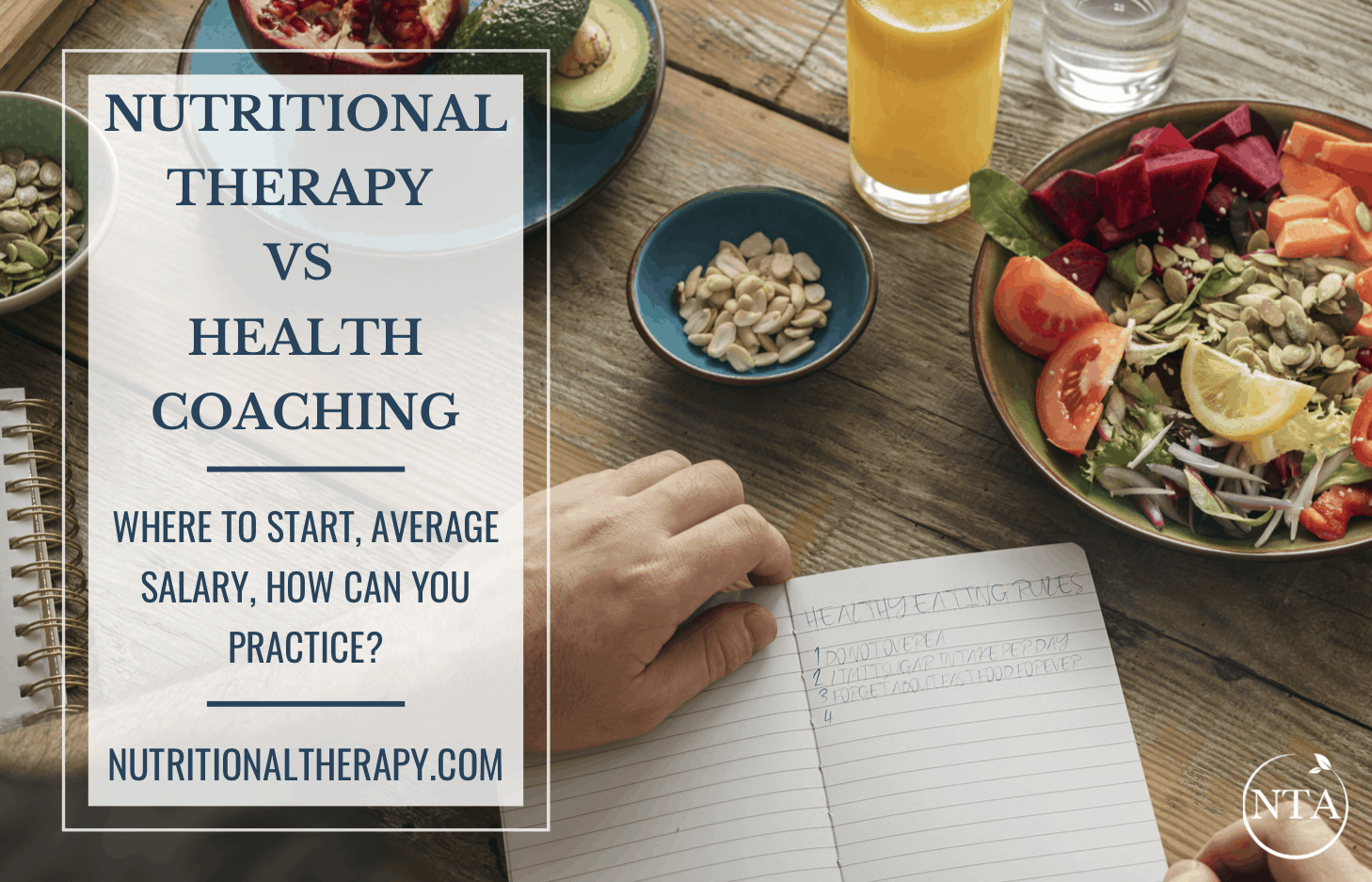 The uprise in chronic disease and nutritional deficiencies demand a solution. Health coaches have quickly gained favor in the health and wellness industry by way of their clients results. According to BusinessWire.com, the U.S. Health Coaching market emerged as a six billion dollar service market in 2018. Because of this, more and more health insurance companies are seeing the value and efficacy and have begun to provide coverage to receive health coaching. There is no better time to start your career in holistic nutrition and become a part of the solution!
Many educational institutions tout their health coaching certificate and nutrition training programs. With an overabundance of options, it leaves one wondering: What is the difference between nutritional therapy and health coaching? Which program is best? What does the certificate entail? Are there requirements to obtain a certificate? What sort of health and wellness jobs are available? And, how much can you make?
There are many routes one can take to become a health coach or nutrition coach. In this post, we will break down the complexities so that you can:
+ Understand the important role of nutritional therapy and health coaches in today's health environment
+ Take a critical look at the validity of each certifying body
+ Observe the career opportunities and average salary of a Health or Nutrition Coach
+ Determine if a career in nutritional therapy is right for you
A Health Coach or Nutrition Coach is a professional who focuses on whole-body systems as individual factors that affect overall health. This includes, but is not limited to mind, body, and emotional factors. These are broad titles and can vary depending on certificate. Some examples are:
Nutrition and health coach certificate programs:
+ Institute of Integrative Nutrition Health Coach (certificate)
+ National Society of Health Coaches (certificate)
+ ADAPT Health Coach Program (certificate)
+ Primal Health Coach (certificate)
Non-certified programs:
+ Beachbody Health Coach (no certification)
+ Arbonne Health Coach (no certification)
+ Self-proclaimed Health Coach (no certification)
The scope of practice will differ between each program. Depending on the state in which you live in, most anyone can call themselves a Health Coach. Without a certificate from a reputable certifying body, this profession can be misrepresented. That is why it is so important to make sure that you are taking a critical look into who is recognizing the educational institution in question.
The NTA is licensed as a private vocational school by the Washington State Workforce Board. We are also recognized by the National Association of Nutrition Professionals (NANP). Our graduates are qualified to sit for the board exam to be become Board Certified in Holistic Nutrition (R). The NANP ensures that the highest educational, professional and ethical standards are in place for those who belong to the association.
You should also inspect the curriculum for proper sourcing and science-based information. For example, our academic and curriculum team incorporates three main principles: the curriculum incorporates evidence-based, empirical research, generational wisdom, and proven results in clinical practice. Our nutritional foundations are also back-boned with a thorough coverage of anatomy and physiology with a scientific emphasis on the pathways of function and dysfunction.
What is the Difference Between Nutritional Therapy and other Health Coach programs?
The NTA provides you with a holistic ancestral nutrition education rooted in the power of real food and scientific function of the body. There are many benefits to taking our Nutritional Therapy Practitioner Online program. Here are some of the features that set us apart from so many of the health coaching programs out there:
Instructor-led curriculum on a user-friendly, online learning platform
Unlike other schools, you'll be taught by real people. Our instructors are holistic nutrition experts who are leading the charge in shifting the paradigm of health. They bring real-life examples of client cases, modern research, authoring books, and so much more directly to you in the classroom. As a student, you'll have access to our online learning platform, Brightspace, that will keep you and your studies organized. This platform and our curriculum were created for adult learners and is easy to use. So, no matter how many other commitments you have or how long you've been out of school, you'll be set up for success from day one.
Bio-individual perspective
We teach a no-one-diet-fits-all approach, meaning, we believe we are unique individuals who have unique nutritional needs. You won't find single diet philosophies or diet trends within this curriculum. We honor and support the body's innate ability to heal by understanding imbalances, supporting nutritional deficiencies, and creating specific, client-forward nutritional protocols that reinforce their bio-individuality.
Curriculum rooted in science and history
The foundation of our curriculum comes from a combination of the work of nutrition pioneers (like Weston A. Price and Dr. Francis M. Pottenger), medical research and articles, as well as the foundational, scientific principles of anatomy and physiology. You'll be taught by experts in the field who have vast experience and education in holistic nutrition, and you'll find credible citations throughout the entire program.
Supportive graduate community
We empower a passionate community of life-changing nutrition professionals to create a ripple effect that transforms lives and shifts the outlook of health to one of hope, today and for generations to come. During your program and upon graduation, you'll be immersed into one of the most supportive and nurturing communities in holistic health. You'll have thousands of graduates who have walked your same journey and are there to support you every step of the way!
Additional features:
+ Ancestrally based with integrity
+ Variety of learning styles
+ Constant support
+ Colleague collaboration and connection
+ NANP Board Certification
+ Client-forward tools
+ Balanced and practical information
+ Business and career guidance
+ Provider search
Health and Wellness Careers, What Can I Do with My Certificateand How Much Can I Make?
There are numerous health and wellness jobs and opportunities for you to use with your certificate. Every day, our graduates are building businesses and changing lives through holistic nutrition. The average salary of an NTP can vary depending on the individual's offerings. For example, you could charge upwards of $100 for one-on-one client sessions or upwards of $1000 for speaking engagements. Your income can be tailored to your desired profit. 
Here are a few ideas of what a graduate from the NTA could do, (and ARE doing!)
+ Consult privately with clients
+ Join a wellness center and work on a team of health care professionals
+ Become a corporate wellness coach
+ Nutrition and Health Blogger or Columnist
+ Host of a wellness podcast
+ Create wellness products/programs
+ Develop a meal planning system for clients or organizations
+ Lecture or speak at events and conferences
+ Author books
+ Improve their overall health, and the health of their families, friends, and communities
+ And so much more!
That's not all, many graduates augment another certificate or degrees they have earned, for example:
+ Holistic Medicine
+ Physicians
+ Nursing
+ Massage Therapy
+ Physical Therapy
+ Fitness Coaching or Personal Training
+ Psychology, Psychiatry, or Mental Health Practitioners
+ Chiropractic
+ Dentistry
+ Ophthalmology or Optometry
+ So many more!
Learn more about the Nutritional Therapy Practitioner Scope of Practice.
See what some of our successful graduates are up to
NTP Graduates:
Emily Schromm
Shelley Gawith
Kariman Pierce
Caroline Potter
Shawn Mynar
Beth Manos Brickey
Sharon Brown
Megan Oesterreich
Ishika Sachdev
Ryan Chapman
Steph Gaudreau
Rachel Freeman (of the Paleo Therapist)
Cathryn Fowler
You can also check out some of our amazing graduate authors here!
Summary
Whether it's the NTA or another program that you choose, we hope that this post serves you well in being able to take a critical approach with your investment. Nutritional Therapy Practitioners play a critical role in the future health of our society. Therefore, when choosing a health coaching program, follow the simple guidelines above to determine which program is right for you and your career goals.
While there are so many opportunities waiting for you to explore after becoming a Nutritional Therapy Practitioner, we understand that building a business on your own can be daunting. We're here to help you succeed. After you graduate as an NTP, our Career Development Course helps you figure out the best marketing methods to use, find clients you love working with, and build a thriving practice.
You're welcome to learn more about that course here. 

Want to speak with an instructor?
Join us for a 
Live Info Session.
One of our instructors will go in-depth, discussing our program and help you to determine if the NTA is right for you and your career goals. This is a great opportunity for you to get your questions answered!