Not Your Typical Coconut Recipes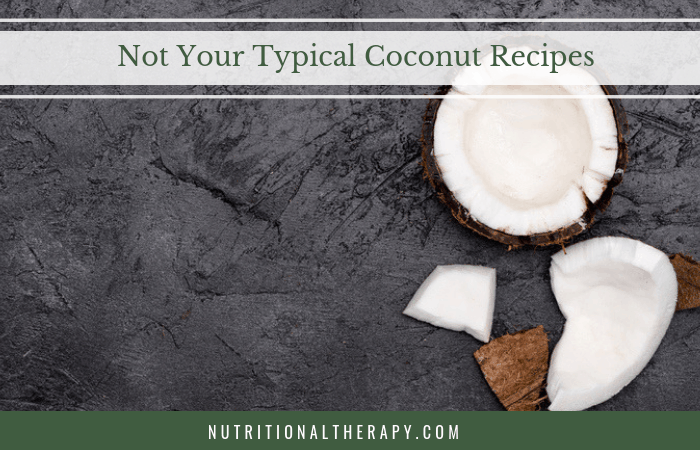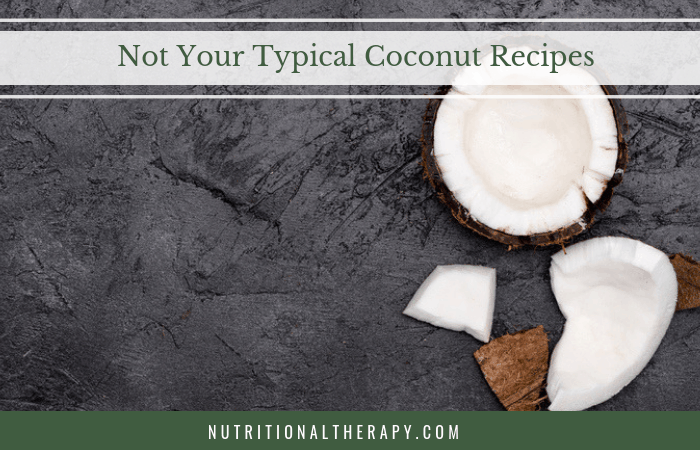 Guest post by Tracy Bosnian, NTP, CH, CFSP
This article was originally published in the Nutritional Therapist, 2012.
These days coconut is EVERYWHERE! Because I grew up in Hawai'i coconut was an everyday food. We didn't think of it as a health food, but as a sweet treat. I'm going to date myself here, but growing up when I did we didn't have soda pop. Or at least I should say it was not the common sweet drink. There were a ton of juices, but fresh coconut water straight from the tree was not uncommon. I think in our community if you haven't experience coconut; you have been hiding under a rock. I hope these recipes will inspire you to try new ways to enjoy this lovely nut. Most people know how amazing coconut oil is, but the meat and the water of the coconut is also therapeutic.  The water of young coconuts has been used for emergency plasma transfusions during past wars. It is very easy to find coconut water everywhere these days, but be aware that the stuff in the bottle or can is nowhere near the quality of that coming out of the young coconut itself. The processing of the coconut water makes the water devoid of most of its important actions.  It no longer has the enzymes that make it so wonderful when getting it from the young coconut itself. Coconut water is excellent for dehydration. Athletes use it to help replenish electrolytes. In Brazil, the husk of the coconut was made into a tea and used for inflammation. Coconut meat is a great source of dietary fiber and is great for people on low carb diets. The meat of the coconut is also used to treat diarrhea, making eating coconut macaroons a good thing! If you want to use the water as a healing agent, make sure to use a fresh young coconut. Research has shown that coconut oil can kill microorganisms that cause sinus infections, pneumonia, bladder infections, ringworm, candidiasis, influenza, measles, and mononucleosis. Because of its germ-fighting properties, coconut oil is often added to infant formulas.  Sally Fallon and Mary Enig's book Eat Fat, Lose Fat: The Healthy Alternative to Trans Fats, tells us that consuming coconut oil can help us lose excess body fat, increase energy, and improve thyroid function. If you are just starting to add coconut oil into your diet, you might want to add it in gradually; it can cause loose stools if you are not used to it. The recommended daily amount of coconut oil is 3-4 tablespoons per day. Start with one tablespoon per day. After two weeks increase it to two tablespoons. Stay on two tablespoons for two more weeks, then add in another tablespoon, and so on. Bruce Fife, ND is another great supporter of coconut and written at least five books on coconut. Here are some new and creative ways to use coconut milk, coconut oil, and shredded coconut in your pantry!
Haupia (Hawaiian Coconut Pudding) 
I grew up eating this pudding. It is the Hawaiian equivalent of Jell-O pudding. This recipe was originally made with white sugar. I use a very mild tasting honey and not very much of it as I think the coconut milk is sweet all on its own.
Ingredients:
2 cups coconut milk 1 cup whole milk (or water, or more coconut milk) 2 tablespoons honey A pinch of salt 5 tablespoons arrowroot or tapioca starch 1/4 teaspoon vanilla (optional)
Preparation:
Pour one cup of coconut milk into a saucepan.
Combine honey, salt, and cornstarch, stirring into coconut milk.
Heat over low heat, stirring constantly until thickened. Add vanilla if desired.
Add remainder of coconut milk and whole milk and continue to heat until thickened.
Pour into 8-inch square pan and chill until firm.
The recipe can be easily modified for personal taste using more or less sweetener and cornstarch.
Crispy Coconut Kale with Roasted Salmon and Coconut Rice
This recipe is SO GOOD. I made changes to the original, which was from Food52.com. They called for a lot more shredded coconut, which in my book would make it way to sweet. The original amount of shredded coconut was 1 cup. Trust me it doesn't need it.
Ingredients:
1
 cup jasmine rice, uncooked
1
 cup coconut milk
1
 cup water
½
 teaspoon sea salt
⅓
 cup coconut oil, melted
1
 teaspoon toasted sesame oil
2
 tablespoons coconut aminos (or tamari)
1
 teaspoon Sriracha
1
 large sweet potatoes, peeled & cubed
1
 teaspoon paprika
1
 tablespoon coconut oil, melted
1
 bunch lacinato kale, ribs removed and sliced into strips
1
 tablespoon unsweetened coconut flakes
1
 to 1 1/2 pound salmon, sliced into 4 fillets
Preparation:
Rinse rice in cold water and drain. Place in a saucepan with coconut milk, water, and salt. Bring to a boil and stir. Reduce to the lowest heat, cover, and cook for 15 minutes. Remove from heat and let stand 10 minutes, or until ready to serve (it will stay warm for up to an hour).
While the rice is cooking, heat oven to 400° F. In a lidded jar, combine the melted coconut oil, sesame oil, coconut aminos, and Sriracha. Seal the jar and shake vigorously until emulsified.
Place the sweet potatoes on a baking sheet. Drizzle with a tablespoon of melted coconut oil and sprinkle with paprika. Toss to coat. Bake for 30 minutes or until tender.
Place kale and coconut flakes on a baking sheet. Drizzle with about 2/3 of the dressing. Toss until well coated.
Drizzle salmon with 1 to 2 tablespoons of the remaining dressing. Bake the salmon and coconut kale mixture during the last 15 minutes of the sweet potato's baking time, or until cooked through, being careful not to let the kale burn.
Remove sweet potatoes, salmon, and kale from oven. Serve over fluffed rice with an extra drizzle of dressing. Devour!
Coconut Panna Cotta
I wish I could remember who shared this recipe with me. It is a super easy go-to for dinner parties and I have been using it for years. If there is not some yummy seasonal fresh fruit, thawed frozen fruit works great.
Ingredients:
4
 cups coconut milk, divided (I prefer Native Forest or Natural Value)
2 ¾
 teaspoons unflavored gelatin
¼
 cup maple syrup
2
 teaspoons vanilla extract
1
 cup seasonal berries
Preparation:
Pour 1 cup coconut milk into a medium saucepan and sprinkle evenly with the gelatin. Let the milk sit for 5-10 minutes to allow the gelatin to soften.
Heat the coconut milk and gelatin over medium heat, stirring constantly, until gelatin is dissolved and milk begins to steam. Stir the remaining coconut milk and honey into the warm milk and whisk until all the ingredients are dissolved. Remove the pan from the heat and stir in the vanilla. Let the mixture cool for 10 minutes.
Divide the coconut milk mixture evenly among 6 glasses or small bowls. Cover panna cottas tightly with plastic wrap, making sure the plastic wrap does not touch the cream's surface. Refrigerate for about 5 hours, until cold and set. When you are ready to serve, top with seasonal berries.
Kulolo (taro & coconut "pudding")
I love this, it takes me home every time I make it.
GeniusKitchen.com
Ingredients:
3 cups taro root, peeled and grated 1 cup fresh coconut grated 1 cup coconut water (the liquid inside a coconut) 1 cup coconut milk ½ cup organic brown sugar (I adjusted this from ¾ cup) coconut oil to grease loaf pan
Preparation:
Preheat oven to 400 F degrees.
Grease a loaf pan with coconut oil
Mix all the ingredients together in a bowl.
Spread the mixture in the pan.
Cover and bake 2 hours. Remove lid during last half hour of baking to allow the pudding to brown.
Reference:
– My own kitchen and experience – Bruce Fife:
The Coconut Miracle
– Mary Enig & Sally Fallon:
Eat Fat, Lose Fat: The Healthy Alternative to Trans Fats
– NPR online article:
https://www.npr.org/sections/health-shots/2011/08/15/139638930/saved-by-the-coconut-water-parsing-coconut-waters-medical-claims
This article originally appeared in the Winter 2012 (updated 10/18) edition of The Nutritional Therapist. Tracy graduated as a Nutritional Therapy Practitioner in 2005, has sat as a member of the
Nutritional Therapy Association's
 Board of Directors, and has assisted with the 
NTP program
 in Portland, OR.