Hypermobility and Functional Health: A Concise Introduction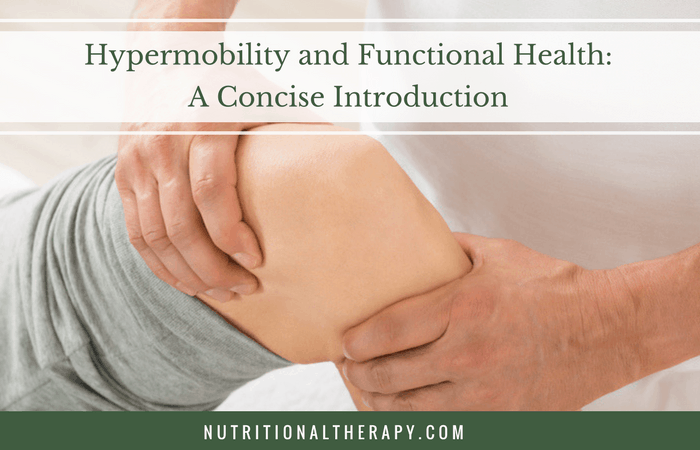 Guest post by Sara Russell, Ph.D., NTP
A lot of my clients with "hard to pin down" health issues or with multiple diagnoses that keep increasing in number over the years have hypermobile joints. Not all of these clients have a diagnosis that relates to their joint hypermobility, and in many cases I'm the first practitioner who has asked them whether they are hypermobile, but taking hypermobility into account can provide useful insights for your nutritional therapy practice and increase the chances of implementing an appropriate nutrition and supplement plan for your client. For this reason, I decided to write this concise introduction to health issues that some people with hypermobility may experience.
You will run into hypermobility fairly frequently in your nutritional therapy practice. Hypermobile people don't always identify as such, but a good first place to look is question 146 on the NAQ ("excessively flexible joints, 'double-jointed'"). In my experience, many people who objectively fit the definition of hypermobile don't realize it, especially if they have a hereditary tendency and consider themselves normal. Also, I have noted that a higher self-rating on this NAQ question tells me more about the person's awareness of the hypermobility as opposed to the degree of hypermobility itself.
HYPERMOBILITY MAY BE ASYMPTOMATIC
Some people with hypermobile joints are asymptomatic and perfectly healthy all their lives. If this is your client's case, she is by no means doomed to developing problems down the line and may enjoy perfect health her whole life. However, it's wise to take measures to prevent hypermobile joints from becoming unstable over time. The health problems many hypermobile people experience don't stem from hypermobile joints per se, but from joints that have become unstable over time via injury, microtrauma and repetitive motion.
If your client has asymptomatic hypermobility, she should maintain good conditioning through regular exercise. This promotes good muscle tone and structural stability, thus reducing the likelihood of over-extension and injury. If you have a client who is very hypermobile and has a history of dislocations and subluxations, he may need to avoid forms of exercise likely to increase the risk of injury, such as some contact sports. Many hypermobile individuals are clumsy due to poor proprioception and balance. I refer my hypermobile clients for physical therapy, which can focus on proprioception, balance, and stability of the core and of the individual muscles, thus improving quality of life and reducing pain and risk of injuries.
WHEN HYPERMOBILITY IS SYMPTOMATIC
When hyper-extensible joints come alongside symptoms across different body systems, there may be a deeper problem with the connective tissue. Nonetheless, few physicians are aware that hypermobility can be correlated with health problems and few to this day ask their patients about hypermobility.
My focus here is on symptomatic hypermobility associated with Ehlers-Danlos Syndrome (hEDS) and Hypermobility Spectrum Disorder (HSD). These conditions affect the integrity of connective tissue throughout the body, with a variable symptom picture that may include joint hypermobility, ligament laxity, tight muscles, easy injury, bleeding and bruising, slow healing, fragile skin and blood vessels, digestive difficulties, cardiovascular problems, scoliosis, and more.
HSD and hEDS often occur alongside comorbidities including POTS, dysautonomia, dyspraxia, migraines, Chiari Malformation and mast cell activation disorders. You can read a fairly comprehensive overview of hypermobility in this 2012 review article. The updated diagnostic criteria were published in March of 2017 and can be viewed at https://ehlers-danlos.com/2017-eds-international-classification/.
BOTH HYPERMOBILITY SPECTRUM DISORDER AND HEDS RUN IN FAMILIES
According to the current body of research in by specialized geneticists, HSD and hEDS are autosomal dominant, meaning that in theory that a person with either condition has a 50% chance of transmitting it to their offspring. Because of the overlap in symptoms according to the current diagnostic criteria, the same family may include individuals with both HSD and hEDS, and the same person may fit the criteria for HSD at some points in life and hEDS at other points.
Clinicians note that more females than males present with signs and symptoms. One reasonable explanation for this is that males may have fewer complaints than females due to the fact that while testosterone tones muscles and increases structural stability, female hormones, especially progesterone, relax muscles and loosen up ligaments.
HOW I WORK WITH CLIENTS WITH HEDS AND HSD
Just like everyone else, hypermobile clients are unique. There isn't a one-size-fits-all solution for the complex constellation of symptoms these clients experience. In fact, the best support is individual and client-centered. When I work with hypermobile clients, I take a close look at functional signs and symptoms across the NAQ and even beyond the NAQ that are indicative of connective tissue status and of particular nutritional and functional imbalances as a result of the person's hypermobility.
Additionally, I do modify the Functional Clinical Assessment when working with a hypermobile client in order to prevent injury.
I've consolidated my notes and clinical observations into an e-book for NTPs and NTCs, The e-book provides specific observations and reflections regarding the applications of the knowledge in the NAQ and the implementation of the Functional Clinical Assessment and presents an approach to individualized nutrition that is responsive to the health concerns frequently encountered by hypermobile individuals. If you'd like to request a copy of the e-book, please contact me.
---
ABOUT THE AUTHOR
Sara Russell is a Nutritional Therapy Practitioner and Certified GAPS Practioner. She has designed programs for fertility optimization and pregnancy nutrition for fellow NTA graduates, which have been approved by NTA for CEUs, and enjoys creating educational materials for clients and colleagues. Sara maintains an active nutritional therapy practice and offers to mentor colleagues. You can contact Sara via email at your.probiotic.kitchen@gmail.com. You can learn more about Sara's work and read her blog at https://buildnurturerestore.com.
---
Learn more about hEDS and HSD
Castori M. Ehlers-Danlos Syndrome, hypermobility type: An underdiagnosed hereditary connective tissue disorder with mucocutaneous, articular and systemic manifestations. ISRN Dermatology Vol 2012. Article ID 751768, 22 pp. Link
Castori M, Voermans NC. Neurological manifestations of Ehlers-Danlos Syndrome(s): A review. Iran J Neurol 2014; 13(2):190-208.
Castori M, Tinkle B, Levy H Grahame R, Malfait F, Hakim A. 2017. A framework for the classification of joint hypermobility and related conditions. Am J Med Genet Part C Semin Med Genet 175C:148-157.
Celletti C, Camerota F, Castori M, Censi F, Gioffrè L, Calcagnini G, Strano S. Orthostatic intolerance and postural orthostatic tachycardia syndrome in joint hypermobility syndrome/Ehlers-Danlos syndrome, hypermobility type: neurovegetative dysregulation or autonomic failure? 2017. Biomed research international. Link
Chopra P, Tinkle B, Hamonet C, Gompel A, Bulbena A, Francomano C. 2017. Pain management in the Ehlers-Danlos syndromes. Am J Med Genet Part C Semin Med Genet 175C:212-219.
Collins, Heidi. "If You Can't Connect the Issues, Think Connective Tissues." Video link
Fikree A, Chelimsky G, Collins H, Kovacic K, Aziz Q. 2017. Gastrointestinal involvement in the Ehlers-Danlos syndromes. Am J Med Genet Part C Semin Med Genet 175C:181-187. Hakim A, De Wandele, I, O'Callaghan C, Pocinki A, Rowe P. 2017. Chronic fatigue in Ehlers-Danlos syndrome–hypermobile type. Am J Med Genet Part C Semin Med Genet 175C:175–180.
Hakim A, De Wandele, I, O'Callaghan C, Pocinki A, Rowe P. 2017. Cardiovascular autonomic dysfunction in the Ehlers-Danlos syndromes. Am J Med Genet Part C Semin Med Genet 175C:168-174.
Hamonet, C. Maladie ou syndrome d'Ehlers-Danlos: une entité clinique, d'origine génétique, malconnue, dont la rareté doit être remise en question. 
Henderson Sr. FC, Austin C, Benzel E, Bolognese P, Ellenbogen R, Francomano CA, Ireton C, Klinge P, Koby M, Long D, Patel S, Singman EL, Voermans NC. 2017. Neurological and spinal manifestations of the Ehlers-Danlos syndromes. Am J Med Genet Part C Semin Med Genet 175C:195-211.
Lyons J, Yu X et al. Elevated basal serum tryptase identifies a multisystem disorder associated with increased TPSAB1 copy number. Nature Genetics 48(12) Dec. 2016:1564-71. Link
Malfait F, Francomano C, Byers P, Belmont J, Berglund B, Black J, Bloom L, Bowen JM, Brady AF, Burrows NP, Castori M, Cohen H, Colombi M, Demirdas S, De Backer J, De Paepe A, Fournel-Gigleux S, Frank M, Ghali N, Giunta C, Grahame R, Hakim A, Jeunemaitre X, Johnson D, Juul-Kristensen B,Kapferer-Seebacher I, Kazkaz H, Kosho T, Lavallee ME, Levi H, Mendoza-Londono R, Pepin R, Pope FM, Reinstein E, Robert L, Rohrbach M, Sanders L, Sobey GJ, Van Damme T, Vandersteen A, van Mourik C, Voermans M, Wheeldon N, Zschocke J, Tinkle B. 2017. The 2017 international classification of the Ehlers-Danlos Syndromes.  Am J Med Genet part C Semin Med Genet 175C:8-26.
Seneviratne SI, Maitland A, Afrin L.2017. Mast cell disorders in Ehlers-Danlos syndrome. Am J Med Genet Part C Semin Med Genet 175C:226–236.
Smith, C. Understanding Hypermobile Ehlers-Danlos Syndrome and Hypermobility Spectrum Disorder. Redcliff-House Publications (UK), 2017.