Fermented Vegetables: A delicious way to support your gut and bring variety to your plate!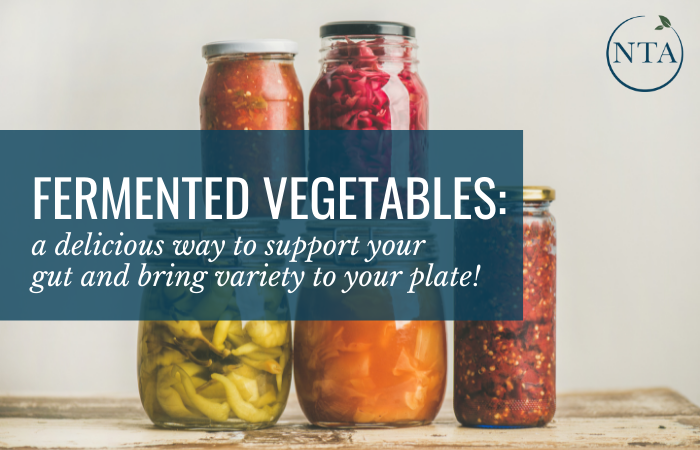 Are you tired of eating the same foods day after day?
It's easy to get into a rut in the kitchen—we often go for the same staples each week. Our faithful go-to recipes can feel safe and reliable, and there is nothing inherently wrong with that.
However, what we want to avoid is never deviating from our staples. Variety in our diets allows us to ensure we are getting a variety of vitamins and minerals, of which we need many. Also, variety keeps cooking fun, which will naturally make us want to make more home-cooked meals.
In the spirit of variety, let us highlight a food category that is often overlooked but has great potential to bring extra pizzaz and nutrients into your kitchen: fermented vegetables.
What are fermented vegetables?

 
Fermented vegetables are more than just the vinegary pickles you keep in the back of your fridge. 
Here's how it happens: beneficial bacteria consumes the carbohydrates in food and release lactic acid which helps preserve the food. During this process, the bacteria also produces B vitamins and other micronutrients, depending on what the food is.
Cucumbers, cabbage, carrots, garlic, and hot peppers are popular choices for fermentation.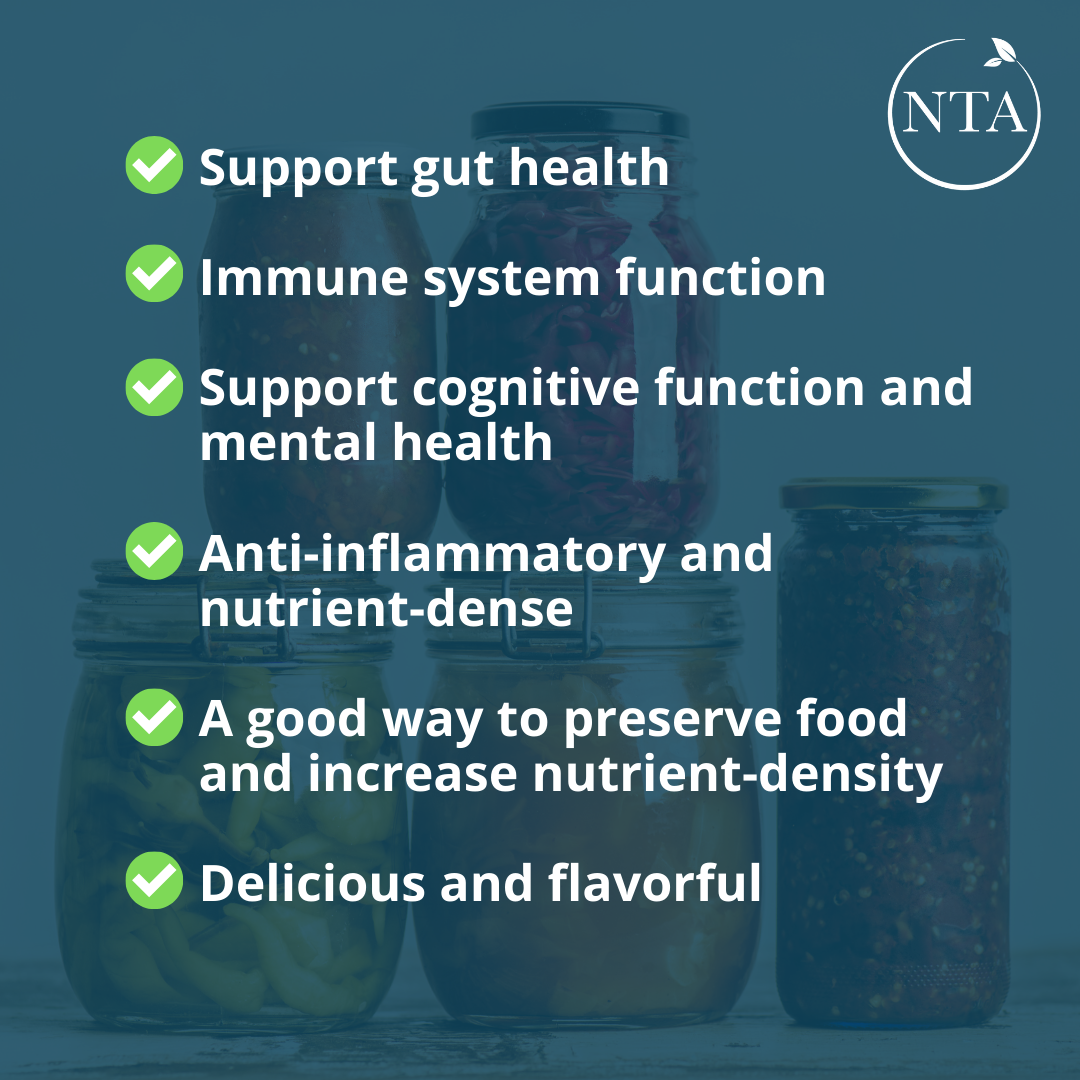 What are the benefits of f

ermented food

?

 
Fermented foods are great to eat to support your gut health. The microorganisms they contain support gut health and immune system function. They are also known to support cognitive function and mental health.
Fermented foods are typically anti-inflammatory and nutrient-dense, making them a great choice for a snack or addition to a meal.
Not only is fermentation a good way to preserve food and increase the nutrient-density of it, but it also brings dynamic flavors to the table. Fermented vegetables are sour and unique tasting. Their acidity makes for a perfect palate cleanse after a rich meal. They can be added to soups, stews, salads, or served on their own. 
Fermented vegetable round up
We rounded up some of our favorite fermented vegetable recipes from our community. Pick one to try for yourself!
To produce the best results when fermenting your veggies, and to prevent the formation of mold, here are some things to keep in mind:
Salt helps keep ferments crispy, gives them flavor, and helps keep potential cross-contamination by undesirable microorganisms at bay while beneficial, lactic acid producing bacteria take root and begin to proliferate.
2. Discard your fermented food if it smells or tastes rancid or putrid (not just sour and fermented) or if it's slimy.
3. Any vegetable you are fermenting should remain completely submerged in brine, not exposed to air. You can use cabbage leaves to wedge fermenting foods below the brine level. Alternatively, weights designed for fermentation work well to make sure that your fermented foods stay fully submerged and are not exposed to oxygen.
4. Using an airlock lid or a stoneware crock designed for fermentation will prevent your ferment from being exposed to oxygen while still allowing the carbon dioxide that builds up during fermentation to escape. 
Don't forget to have fun with it! Try out different combinations of vegetables and ways to incorporate them into your diet. Variety is the spice of life—and that translated very well into the kitchen.
Your gut and your tastebuds will thank you.
References:  
Fallon, S., Enig, M. G., Murray, K., & Dearth, M. (2005). Nourishing traditions: The cookbook that challenges politically correct nutrition and the diet dictocrats. NewTrends Publishing, Inc.
Nutritional Therapy Association (2019). Culinary Wellness Pt. 1 Study Guide. Olympia, WA.  
Selhub, E. M., Logan, A. C., & Bested, A. C. (2014). Fermented foods, microbiota, and mental health:  ancient practice meets nutritional psychiatry. Journal of physiological anthropology, 33(1), 2.  https://doi.org/10.1186/1880-6805-33-2 
Want your recipe or article to be featured on our blog? Email our team Marketing@nutritionaltherapy.com with your full name, article, a short bio in third person, and a headshot. We may feature you in an upcoming blog post.

Join us for a Live Webinar with one of our Instructors and Admissions Advisors!
During this call, you'll explore and learn:
How to create a rewarding career in holistic nutrition that will give you the confidence and competence to replace your full-time income (whether you're new to nutrition or or using it to enhance your current services)
How our unmatched education and instructor support sets our NTP program apart from other nutrition programs​​​​​​​
How graduates are successfully using their education and the many career opportunities available to you
If the NTP program is the right fit for you and how to move forward in financing your education